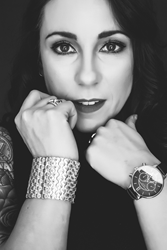 Life is so different now and I am so excited to have the opportunity to help others.
(PRWEB UK) 5 October 2016
Claire Russell, a Network Marketing Professional and business mentor has this week officially launched her Business Mentoring service and Health and Wellness business within the umbrella of "Claire Russell Enterprises." Claire is bringing her corporate experience of over twenty years, to support anyone who wants to launch their own business alongside her.
Claire has overcome numerous setbacks, such as a hip replacement surgery at age 18, followed by a stroke at age 19, which left her in a coma with Doctors providing little hope. She recovered, but was left with almost no sensation on the entire right hand side of her body.
Having defied the odds Claire went on to build an impressive insurance business, specialising in insurance for lawyers. Now, twenty years later, she has given that up to launch her new venture, and her reasoning might be a little surprising.
Keeping her insurance business running meant that Claire had to miss important family events and, crucially, not see as much of her children as she wanted to. This left her feeling overwhelmed, with the growing sense that the business was running her, rather than the other way round, so she looked for a way out.
"I knew I needed to make a change," explains Claire. "The children were going to grow up whether I was around or not, but I wanted to be around. I wanted to share sports days and school performances with them and I wanted to be able to hear about their day when they got home, not creep into their bedrooms when I finally finished work. So I took the plunge, extracted myself from the only career I had known, and looked for something else to do."
And now, Claire is announcing the launch of a business that will transform the Network Marketing industry, showing the people who work with her how to run and present their business as professionally as any other business. She works to sell health supplements that can manage weight, along with many other skin and beauty care products. This business is successfully run from her home in Warwickshire.
"My life is so different now. My children get to see me before and after school pretty much every day. Plus, I am still fulfilling my dream to build businesses, not just for me but now for people who choose to join me and work alongside me. I even get to go to the gym with my husband John most days - something which was unheard of before!"
As part of the business-mentoring side of her job, Claire guides clients towards discovering the ultimate goal of their business, and works with them at each step. Claire is a recognized leader in her community, as she works at charities in her spare time, and is a regular speaker for 4Networking, one of the largest professional networks for professionals in the UK.
As her business is launched, Claire looks forward to contributing to the health and supplement industry, as a leader in professional network marketing.
About:
Claire is a dynamic leader within the multi-billion dollar network marketing industry and she is building a fast growing, global business – and is, every day, helping others to achieve their own success. Claire works with carefully selected individuals, who share her zest for life and desire to stand apart from the rest – she shares her extensive business experience with them and supports them every step of the way towards their own success. Claire is recognised as a great leader, trainer and mentor. Claire Russell speaks regularly at 4networking.biz who have over 50,000 members and hold 100's of business networking meetings around the UK. Claire's latest business venture aims to provide an amazing business opportunity underpinned by world class products.
For further information, contact:
Claire Russell - 07970 961454 and online at: http://www.clairerussell.co.uk/