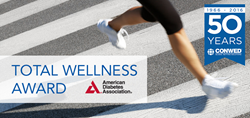 Minneapolis, Minnesota (PRWEB) September 27, 2016
Conwed, the leading plastic netting manufacturer in the world, was presented the Total Wellness Award by The American Diabetes Association at the event "An evening with the stars", held on September 10, 2016. Envisioned as an opportunity to honor, appreciate and celebrate, this event recognized a selected group who through their outstanding dedication and service have furthered the mission of The American Diabetes Association.
The Total Wellness Award recognizes Conwed as a company that embraces 365 days of Wellness by promoting health and wellness among its employees, encouraging healthy living and improving organizational wellbeing. "For more than ten years, we have worked relentlessly to improve our employees' wellbeing through our LIVE WELL. WORK WELL. wellness program. Our goal is to provide our employees with wellness tools and advice to help them adopt long-term healthy lifestyles and reduce health risks", said Barb Levercom, benefits and wellness coordinator at Conwed.
Conwed has also been awarded the Health Champion Designation several times, a recognition to companies and organizations that meet the healthy living criteria in three important areas: nutrition and weight management, physical activity and organizational well-being.
"We have an outstanding relationship with The American Diabetes Association and support their mission to improve people's health and ultimately stop diabetes", said Levercom.
The American Diabetes Association is leading the fight to Stop Diabetes and its deadly consequences and fighting for those affected by diabetes. The Association funds research to prevent, cure and manage diabetes; delivers services to hundreds of communities; provides objective and credible information; and gives voice to those denied their rights because of diabetes. For the past 75 years, its mission has been to prevent and cure diabetes and to improve the lives of all people affected by diabetes.
To learn more about LIVE WELL. WORK WELL.™ wellness program at Conwed visit
http://www.conwedplastics.com/wellness
About CONWED
Conwed is the leading plastic netting manufacturer in the world. Conwed manufactures extruded, oriented, knitted and multilayer netting with unique customization capabilities. Headquartered in Minneapolis, Minnesota, Conwed has five manufacturing locations on two continents and a global distribution network.