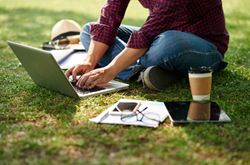 According to Safeware's loss data, nearly 40% of all damage claims submitted by college-age students occurring football season each year.
Dublin, Ohio (PRWEB) September 28, 2016
As fall begins and college football ramps up, laptops and tablets are the ones to face the penalty now that students are back on college campuses across the country. Safeware, a leading provider of product protection and extended warranty solutions for higher education, sees a dramatic spike in the number of accidental damage claims reported each year during the traditional football months of September, October and November.
College students live for the first home football game of the season. In fact, one student from Central Michigan University unintentionally damaged his laptop as he and a friend were throwing a football ahead of a Saturday afternoon game against one of the Chippewa's biggest rivals. That student is just one of many who accidentally crack their screens during football and other recreational activities. In fact, according to Safeware's loss data, nearly 40% of all damage claims submitted by college-age students occur during football season each year.
The fall months also see a surge in liquid damage claims; three out of every ten claims from college students in the fall are a result of accidental liquid spills. As the leaves change colors and the weather gets cooler, students turn to hot chocolate and apple cider to keep warm when walking to class or doing school work. These comfort drinks, used during long hours of studying, are oftentimes fumbled and spilled. In many cases, the sugary liquid causes irreparable damage to the hard drive or other important components.
Companies such as Safeware specialize in protecting devices for college students nationwide so they can focus on what matters most, completing their degree! Waterproof cases, separate carrying bags and extended warranties are great ways to add additional protection to technology. These simple precautions will help keep devices from being 'benched' this football season.
About Safeware
Having pioneered the technology insurance industry in 1982, Safeware is now one of the most recognized names in product protection. Safeware's innovative approach to insurance and extended warranty solutions has propelled the company into multiple industries including education, corporate technology, fitness, furniture and appliances. By allowing partners to customize coverage based on their unique needs, Safeware provides best-in-class programs allowing customers to own their products with confidence.
Learn more about Safeware online at http://www.safeware.com or by calling 1.800.800.1492.