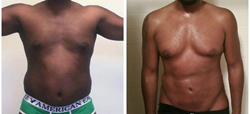 It's not that men don't get liposuction, they simply don't talk about their procedures.
Las Vegas, NV (PRWEB) September 28, 2016
Liposuction is only for women, right? Not only is this wrong, but Trevor Schmidt PA-C, the owner and liposuction expert at MyShape Lipo says that over of 35% of their patients are men. In a recent interview aired live on FOX 5 "More Show, " Schmidt was interviewed with male patient Jeremy "Mr. Grand" Washington to share his amazing success story and encourage more men to consider liposuction as an option.
Mr. Grand is a small business owner living in Las Vegas who makes a living in part by selling delicious sweet potato pies. He's struggled with diet and exercise for much of his adult life and felt that he had exhausted his efforts. After countless discouraging attempts to lose weight he was ready for a more aggressive approach to permanently remove the fat around his waist.
"Jeremy's results are nothing short of amazing," says Schmidt. "I was able to remove all the fat along his waist to rid him of that spare tire and muffin top that protruded over his jeans. I'm still amazed at what is possible with liposuction."
Most men think that liposuction is a procedure that women get and that couldn't be farther from the truth. Per statistics at MyShape Lipo, one in three of their patients are men. So why is it that people think men don't get liposuction?
"It's not that men don't get liposuction, they simply don't talk about their procedures," says Schmidt. "Almost all of the men we treat choose not to tell anyone and they don't want us using their pictures either for privacy issues. This reinforces the belief that men don't choose liposuction and that is totally inaccurate."
Mr. Grand is an exception to this rule. Being a small business owner and self proclaimed "Socialite," he felt the urge to share his success story with the world. When given the opportunity, he chose to reveal his secret about his procedure through a live interview on local television along with Trevor Schmidt PA-C of MyShape Lipo. He has also spread his story through Facebook where his nearly 2000 followers had the opportunity to ask personal questions and get insight on the procedure.
From the pictures one can see the phenomenal results that Jeremy was able to achieve. He actually took his own pictures after the procedure to document just one day after the procedure, he nearly has a six pack abdomen. He had the entire abdomen and waist treated at which time 3.5 liters of pure fat was removed. This is almost 8 pounds of pure fat permanently removed.
"I wanted other guys to know that this is a great option to get rid of their gut and finally feel more comfortable in their skin," says Mr Grand. "I'm so happy that I had my procedure, I don't think I could have done this on my own, certainly not this fast."
While Jeremy's results are incredible, they are quite common at MyShape Lipo. Liposuction works just as well on men as it does on women. They hope that as more men speak out about their results, others will be encouraged to take the next step and permanently remove their fat as well.
About MyShape Lipo
MyShape Lipo is a liposuction specialty clinic located in the Las Vegas area. Owner and liposuction specialist, Trevor Schmidt PA-C has performed over 15,000 liposuction procedures on patients of all shapes, sizes and gender. Nearly 70% of their patients fly in from around the country to take advantage of their extensive experience and affordable rates. They offer complimentary "Body Shape Analysis" in person or over the phone for those coming from out of state. To schedule yours today, call now 702-818-5476.