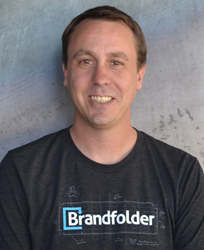 Jim believes that what makes Brandfolder exceptional is its ability to remain an easy-to-use platform while solving customer challenges in creative ways.
Denver, Colorado (PRWEB) September 27, 2016
Brandfolder CEO Steve Baker is proud to announce that Jim Hanifen has joined the Denver-based DAM company as their new Head of Product. Brandfolder is a dedicated platform for managing and sharing brand assets.
Jim was part of the team that grew the popular MapMyFitness suite of apps from an eight-person startup to its high-profile 2013 acquisition by Under Armour. During his tenure with Under Armour, Jim held technical and product positions within the company, exiting as Director of Product. He directly contributed to the growth of the global brand's Connected Fitness Division to over 150M users.
Steve Baker, CEO of Brandfolder said, "Jim's mandate is to elevate our product and continue to lead us down a path of innovation and disruption in the Digital Asset Management space. Jim believes that what makes Brandfolder exceptional is its ability to remain an easy-to-use platform while solving customer challenges in creative ways."
Jim Hanifen, Head of Product at Brandfolder said, "I'd been hearing a lot of great buzz about Brandfolder's impressive client list and fast growth, and I am thrilled to have the opportunity to join this incredible team. I look forward to applying my experience to advance what's already a strong platform and to help drive innovation in the Digital Asset Management space."
To learn more about Jim's move to Brandfolder, read Baker's full announcement: Brandfolder Announces a New Head of Product (Here's Why it's a Big Deal)
Brandfolder is the world's most powerfully simple Digital Asset Management platform for storing, sharing, and showcasing assets. Organizations like Slack, OpenTable, Shazam, and HealthONE rely on Brandfolder to deliver consistent and compelling brand experiences. With Brandfolder, companies can:
— House all brand assets in one place
— Set permissions and grant access
— Easily share assets with just one link
— Edit images, and access multiple sizes and formats
— Instantly update assets online
— Monitor which assets are being used
— Integrate Brandfolder with other apps, including Adobe Creative Suite and Slack
For Media Inquiries, Please Contact:
Meg Prater
Content Strategist
meg.prater(at)brandfolder(dot)com