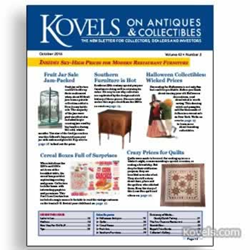 Cleveland, Ohio (PRWEB) September 28, 2016
Halloween collectibles with spooky faces auctioned in New York and are featured in a sale report in Kovels on Antiques and Collectibles October 2016 newsletter. Decorations for Halloween are now on par with Christmas and are rising in value. Find pictures and prices of haunting examples like the cast iron "Halloween Girl" doorstop that attracted a winning bid of $29,000, as well as tips on what will be collectible in the future. Bidders found sweet deals on old cereal boxes at a Pennsylvania auction. Kovels' October issue pictures vintage boxes with colorful graphics, special offers and in-the-box premiums that will remind collectors of mornings with Corn Crackos, Sugar Sparkled Flakes, Alpha-Bits and others. Nineteenth-century furniture made in the U.S. South was offered at a North Carolina auction. Pieces that were made for food storage or service, including a sugar chest, spice box and wine cooler, are pictured with prices and descriptions in Kovels' latest issue.
Hand sewn quilts that were used are collectible pieces of folk art that tell stories about the places, times and people who made them. Quilts were on the auction block in Virginia where prices ranged from just over $100 for pieced quilts with traditional designs to just under $9,500 for a "Lone Star" quilt with Baltimore provenance. See these and others in Kovels' October issue. And a New Jersey bottle auction was jam-packed with fruit jars. Top price of $1,955 was paid for an 1880s aqua Gilberds Improved jar with its original wire clamp closure. Learn about valuing old fruit jars in Kovels' latest issue.
New York City's famous Four Seasons restaurant moved out of Mies van der Rohe's Seagram building and its contents went to auction. Kovels' pictures some of the highlights, including a tulip table by Eero Saarinen that was in the Grill Room bar, Barcelona chairs by van der Rohe that were from the lobby, and the bronze Four Seasons sign that brought a whopping $120,000. The popular illustrated Collector's Gallery answers readers' questions about a cigar tin, Texaco sign, Weller vase and a needlepoint picture of Charles Lindbergh's home. October's Dictionary of Marks lists Gaudy Dutch pottery patterns. And more than 70 antiques and collectibles are listed in the Buyer's Price Guide.
Kovels on Antiques and Collectibles is available as a print subscription, or as a digital version that is part of the Kovels.com Premium subscription.
Terry Kovel is America's foremost authority on antiques and collectibles. She is the well-known columnist and author of more than 100 books on antiques and collecting. With her daughter, Kim Kovel, she co-authors the best-selling annual Kovels' Antiques and Collectibles Price Guide. The 2017 edition is now available at Kovelsonlinestore.com and local bookstores. They will discuss antiques and collectibles topics with accredited media. Photographs are available. Contact pr(at)kovels(dot)com.
About Kovels.com
Kovels.com, created by Terry Kovel and Kim Kovel, provides collectors and researchers with up-to-date and accurate information on antiques and collectibles. The company was founded in 1953 by Terry Kovel and her late husband, Ralph. Since then, the Kovels have written some of America's most popular books and articles about antiques, including the best-selling Kovels' Antiques and Collectibles Price Guide 2016. The website, Kovels.com, online since 1998, offers more than a million free prices, and includes a free weekly email, "Kovels Komments." It gives readers a bird's-eye view of the market through the latest news, auction reports, a Marks Dictionary, readers' questions and answers and much more.
Contact Information:
Liz Lillis
216.752.2252
Pr(at)kovels(dot)com