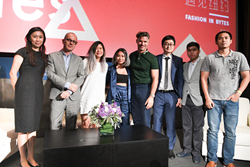 New York City, New York (PRWEB) October 13, 2016
How many views should an article about "Wafers in the cigar box" have on Toutiao? Among the respective fans of MK or Vera Wang, which showed more interest?
On September 9th around 7:30 am, Beijing Time, Toutiao kicked off "Fashion in Bytes," an event held at the Intrepid Sea, Air & Space Museum in New York City. Taking place on the first day of Spring 2017 New York Fashion Week, Liu Shishi analyzed data gathered from the 550 million Toutiao users.
"Fashion in Bytes" was hosted by TOUTIAO and UNIPX MEDIA. In attendance were Simon Collins (the founder of Fashion Culture Design), Eric Rutherford (Instagram celebrity), Jeanne Grey (US well-known fashion stylist), and Peggy Wang (Editorial Director of Lifestyle at Buzzfeed). Here they discussed the topic of Internet Celebrities. At the end of the show, Chinese designer Xu Yiwei brought the event to its peak by presenting her line of clothes.
Over 70% users from Toutiao are born after the year 1985.Cao Huang, Toutiao's A.I. Scientist, gave a talk about Toutiao's set of Algorithms and demonstrated how applying Artificial Intelligence lets the machine learn fashion trends.Tina Zhao, Toutiao's Senior Vice President, shared the "big data" of fashion followers from Toutiao's users-base.
According to statistics from August 2016, Toutiao has over 550 million total users, and 60 million daily active users. On average, users will have 9 sessions per day with the average time on the site of 76 minutes per day. Among 550 million Toutiao users, 45% of users are female, and 55% are male. By geography, 50% of users are from first and second-tier cities. Meanwhile 49.8% of users are from third-tier and other minor cities.
Toutiao's largest users segment by age is 24-30 year olds as they account for 47% of all users. This segment is often categorized as "heavy internet and social media users." 70% Toutiao users are born after 1985, and they are the users who are demanding upgraded content consumption methods. Besides, 19% of users show their preference for fashion-related content.
In the past year, the number of Toutiao's fashion readers amounted to nearly 10 billion in page-views. Even for the long and niche content, Toutiao can still get a huge amounts of traffic due to it's huge readership. For example, an article titled: "Wafers in the Cigar Box", reached 250 thousand page-views and 224 comments.
The most followed fashion keywords on Toutiao are "hairstyle", "clothing style", and "body figure." The most followed fashion items are "one-piece dress", "culottes." and "high heel." The most followed clothing materials are "lace", "chiffon," and "cotton fiber."
The keywords used have also been influenced by Chinese pop culture, especially TV series such as "Ode to Joy" and "Les Interprètes." Some actresses have become trendsetters since they wear stylish clothes in their respective TV series.
Take the following Autumn/Winter 2016 Fashion Week's statistics for example; the most followed fashion models on Toutiao are Gigi Hadid, Kendall Jenner and Karlie Kloss. Between Chinese fashion models, the most followed models were Liu Wen, He Sui, and Sun Feifei.
At Spring/Summer 2016 Fashion Week, the most followed fashion designers on Toutiao were Vera Wang, Stella McCarteny, and Alexander Wang. At Fall/Winter 2016 Fashion Week, Stella McCartney became the most followed fashion designer on Toutiao among fashion followers. After McCarteny, Jason Wu and Vivienne Westwood followed closely behind in terms of popularity.
The most followed American brands among Toutiao's fashion followers are Marc Jacobs, followed by Michael Kors. It is very clear that, for US users, young users were the largest demographic of fashion followers on Toutiao.
The most followed item for Michael Kors followers are "half skirt" and "coat." And the most followed celebrities among users are Yang Mi, Tang Wei and, Song Jia (of the top rated TV series "Les Interprètes").
The most followed fashion item for Lacoste's followers is the "Polo shirt." And the most followed celebrities of Lacoste followers are Hu Ge and Huo Jianhua.
The most followed fashion item for Vera Wang's followers is unsurprisingly "wedding dress." The most followed celebrities of Vera Wang followers' are newly-weds Liu Shishi, and Chen Yanxi. Chen Yanxi wore Vera Wang on her wedding day.
The most followed fashion item for Coach followers is "culottes." The most followed celebrities of Coach followers are Tang Yan, and Chiara Ferragni (the fashion blogger).
Users following Ralph Lauren are more detail-orientated people. The most followed fashion keywords for them are "skirt", "button" and "lace up." The most followed celebrities are Zhang Ziyi, Yang Mi, Yang Ni, and Lin Qingxia.
From the statistics above, we noticed Toutiao users obviously have diverse tastes. We can analyze users by their "tags"/"keywords," to meticulously draw the users' profile. Now Toutiao has 550 million users, which is still surging and nearly covers all walks of life in China.