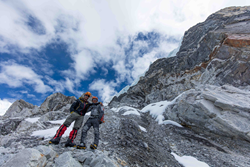 Climber and Adventure Filmmaker Elia Saikaly, who has twice summited Everest, is now climbing the never before summited Hillary Peak.
OTTAWA, ON (PRWEB) September 27, 2016
Canadian Climber and Adventure Filmmaker Elia Saikaly, who has twice summited Mount Everest with his education and fundraising initiative FindingLife.ca, is now climbing the never before summited Hillary Peak.
On this historic journey to become the first to climb the mountain named in honour of Sir Edmund Hillary, Saikaly is releasing an 8-part web-series called Unclimbed. The visually spectacular series chronicles the climbers' life stories, past adventures and their harrowing journey into the clouds above 25,000 feet as the Hillary Peak expedition unfolds in real-time. The online series is airing now and after the summit there will be a one-hour broadcast special that premieres on Discovery Channel in November.
The difficulty and danger of this expedition has already nearly taken a tragic turn as renowned Canadian climber and original third team member Gabriel Filippi nearly fell to his death. Saikaly recounts the terrifying experience: "I watched in sheer horror as my best friend and climbing partner Gabriel flew off the cliff he was scaling at 5700m, upside-down and backwards to what I was certain would be paralysis or death. He bounced uncontrollably like a rag doll, over 60ft, from cliff to cliff, before eventually coming to a stop just feet next to where Pasang was belaying him. In total shock, I ran down to his aid praying for the best, terrified of the worst possible outcome. Miraculously, he survived. He escaped death."
A rescue ensued (link for full story) and thankfully Gabriel is back in Canada expected to make a full recovery. The near death accident put the expedition in jeopardy but Elia and Pasang have chosen to push onward with Gabriel's encouragement.
In a message to Gabriel, Elia said: "This is your expedition as much as it is ours and we will do our best to make you proud. We tread forward, 2 in body, 3 in spirit. Our love and support shines outwards daily in your direction. Much love and a tremendously fast recovery."
For updates and to follow the historic expedition visit the unclimbed website and Facebook page.
To watch the web series and to enter for a chance to win a 2017 Jeep Cherokee, visit the Life is Calling website, sponsored by Jeep.
About Finding Life:
FindingLife is a movement that combines adventure, technology, film and charitable initiatives to inspire others to FIND their most meaningful LIFE and spark positive change. Please visit http://www.findinglife.ca for more information.