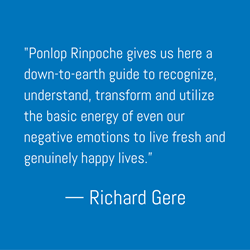 "When we bring awareness to our emotions, something truly amazing happens. They lose their power to make us miserable." – Dzogchen Ponlop Rinpoche
Rhinebeck, NY (PRWEB) September 28, 2016
As part of his Emotional Rescue book tour, Dzogchen Ponlop Rinpoche will teach at Omega Institute this fall, along with authors David Kaczynski and Michaela Haas.
Is it possible to turn emotions into empowering energy? Can one channel pain into compassionate action? How can one understand the science and healing strategies behind post-traumatic growth? The three teachers will help answer these questions in a workshop to be held October 21-23, 2016 entitled "Compassion, Forgiveness & Resilience: A Buddhist Approach to Finding Strength Through Right Action" at Omega Institute in Rhinebeck, New York.
Over the weekend, Rinpoche will share stories and lectures as well as proven meditation practices for changing suffering into strength and happiness. Dzogchen Ponlop Rinpoche will teach methods for transforming emotions into empowering energy, from his new book, Emotional Rescue; David Kaczynski will describe how he channeled pain into compassionate activism; and Michaela Haas will explore the new science behind post-traumatic growth. Participants will depart the workshop with new ways to find compassion, forgiveness, resilience, healing and happiness in difficult times.
Dzogchen Ponlop Rinpoche, the founder and president of Nalandabodhi, is a widely celebrated Buddhist teacher and the author of Rebel Buddha: A Guide to a Revolution of Mind. His latest book is Emotional Rescue.
David Kaczynski is the brother of Theodore Kaczynski—the so-called "Unabomber." He is author of Every Last Tie: The Story of the Unabomber and His Family and lectures frequently on issues related to mental illness and compassionate, nonviolent action. He is the former executive director of Karma Triyana Dharmachakra monastery in Woodstock, New York.
Michaela Haas is the author of Bouncing Forward: Transforming Bad Breaks into Breakthroughs. A longtime reporter, she is owner of HAAS live!, an international coaching company for media, mindfulness, and communication training. She has studied Buddhism for more than 20 years.
CONTACT
PR/Media requests for Dzogchen Ponlop Rinpoche: Contact Ceci Miller at ceci (at) dproffice (dot) com. 206.261.6900
To invite Dzogchen Ponlop Rinpoche to present an Emotional Rescue workshop or other teaching event, contact Chris Stagg at chris (at) dproffice (dot) com.
To request reprints from Emotional Rescue, contact Cindy Shelton at cindy (at) dproffice (dot) com.
For volume orders of Emotional Rescue, booksellers contact customerservice (at) penguinrandomhouse (dot) com.
Publishing rights requests: Contact William Clark Associates.