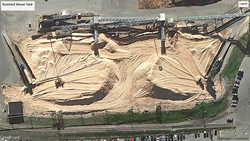 Learn how to save time and control data by utilizing the latest advancements in technology.
Centennial, CO (PRWEB) September 27, 2016
Gathering stockpile volume data is safer and easier than many might think. In just a few simple steps, professionals can measure and calculate inventory with just a smart device and a laser. Laser Technology, Inc. (LTI) and an expert from Catalyst paper are co-hosting a webinar to show stockpile professionals the advancements in smart device technology and specific solutions designed to measure stockpiles and calculate volume and tonnage right in the field.
Next Generation Stockpile Volume Measurement Technology: Lasers and Smart Devices
Wednesday, September 28th, 2016
9:00 am (MDT)
Register Now!
Join us on September, 28th and discover how to obtain accurate inventory numbers with an accurate solution that facilitates worker safety, provides real-time data with instant access to calculations. A stockpile professional will take attendees through the quick set-up process, explain how their company does it and provide tips to get the most successful measurements possible. Learn how to save time and control data by utilizing the latest advancements in technology. Also, get a close-up preview of LTI's MapSmart + Volume software for Android smart devices set to release in October.
LTI's new MapSmart on Android software takes all of the sophisticated technology required to collect reliable field data and combines it into a simple-to-use app. Combine the software with a Bluetooth ® or WLAN-enabled LTI laser to accurately measure the volumes of any kind of stockpile. Simplify the mapping process by quickly establishing an origin and start mapping like a pro within minutes. Because MapSmart now runs on Android, users benefit from a simplified mapping process and improved workflow including wireless data transfer, larger display, as well as built-in help support. Be one of the first to see what modern mapping software is now capable of.
In celebration of LTI's 30th year in business, all webinar attendees will have three chances to win a $30 gift card and will be automatically registered for $300 off a complete volume measurement solution.
About Evan Chatmas
Evan Chatmas is the manager of chip plant operations for Catalyst Paper, Rumford Division. He has been using MapSmart software for volumetric feedstock measurements since 2013. In addition to conducting several in-house studies on the software's efficacy, he has trained more than 10 people in its application and has logged approximately 100 hours of usage. Chatmas holds a Bachelor of Science in Wood Science & Technology and a Master of Science in Forest Resources from the University of Maine, Orono.
About Laser Technology, Inc.
Laser Technology Inc. is a Colorado-based manufacturer and industry leader in the design and manufacture of reflectorless laser measurement devices for GIS, forestry, natural resource management, general construction, utilities, mining and telecommunication applications. LTI's equipment allows users to gather data accurately, efficiently and safely. Used by professionals for more than 30 years, LTI's equipment is trusted around the world. Read more about Laser Technology, Inc.