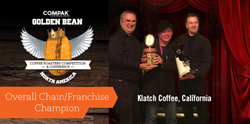 Klatch Coffee brings their two year medal count to fourteen.
Los Angeles, CA (PRWEB) September 27, 2016
Klatch Coffee, a family owned specialty coffee roaster in Southern California, continues to make history by winning the award for 'Overall Champion' in the Franchise/Chain category for the second time at the Compak Golden Bean North America Roasters Competition hosted from September 15-17th in Portland, OR.
Compak Golden Bean originated in Australia 10 years ago and is the world's largest coffee roaster competition with 244 roasters from across the country competing. With over 700 coffees entered, Pete Licata and Anne Cooper enlisted the help of 120 judges over four days of tasting.
Mike Perry, Klatch Coffee's Roastmaster and green coffee buyer, took home the Golden Bean trophy for Overall Champion Roaster in the Franchise/Chain category as well as a gold medal for the Milk Based category. The Milk Based category celebrates espresso that pairs well in lattes and cappuccinos. The Southern California roaster also received seven other champion medals for different coffees submitted, bringing his two year medal count to fourteen.
The gold medal espresso is a special blend of different beans from Wilford Lamastus of Elida Estate in Panama. Klatch Coffee will offer their winning blend for purchase in their three Southern California retail stores as well as online at http://www.klatchroasting.com starting in October 2016.