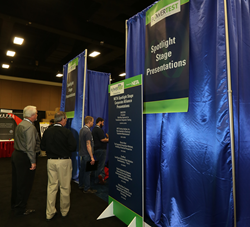 Portage, Michigan (PRWEB) November 03, 2016
Electrical power systems professionals have a unique opportunity to learn from industry experts and sit in on cutting-edge technical presentations at the PowerTest 2017 Spotlight Stage. NETA, the InterNational Electrical Testing Association, hosts the annual PowerTest conference, scheduled for February 27 – March 3, 2017, in Anaheim, California.
Twelve Corporate Alliance Partners — each a leader in their field — will give 15-minute technical presentations on the latest technological developments, trends, and best practices on Tuesday, February 28, 2017, at the PowerTest 2017 Trade Show in the exhibit hall.
Spotlight Stage schedule includes:
12:30 PM - 12:45 PM
A New Approach for Testing Power Transformers — Presented by OMICRON
12:55 PM - 1:10 PM
Precision Commissioning to Optimize Efficiency of Critical Facilities — Presented by ComRent Load Bank Solutions
1:20 PM - 1:35 PM
Power Quality and Insulation Testing including a Special Conference Program — Presented by Electro Rent
1:40 PM - 1:55 PM
New Developments in Transformer Testing — Presented by Megger
2:05 PM - 2:20 PM
The Importance of Calibration — Presented by Protec Equipment Resources
2:30 PM - 2:45 PM
Vacuum Breaker Testing: Testing Options and the Benefit of Each — Presented by BCS Switchgear, Inc
2:55 PM - 3:10 PM
Serving the Testing Contractor — Presented by Intellirent
3:20 PM - 3:35 PM
NEC Electrical Safety Issues Due to Misapplication or Violations — Presented by AVO Training Institute, Inc.
3:45 PM - 4:00 PM
Monitor, Record, and Analyze Power, Energy Usage, and Costs Locally or from Anywhere in the World — Presented by AEMC Instruments
4:10 PM - 4:25 PM
From Edison to Musk: Technological Innovations in Material Science and their Impacts on Circuit Breaker Construction — Presented by Circuit Breaker Sales Co., Inc.
4:35 PM - 4:50 PM
Find Out What Your Micro Ohmmeter Is Missing — Presented by Doble Engineering Company
4:55 PM - 5:10 PM
TBD — WEIDMANN Diagnostic Solutions
Registration for the PowerTest Trade Show and Spotlight Stage Presentations is free. For more information visit http://www.powertest.org or contact the NETA office at 888-300-6382.
PowerTest 2017 Early Bird Registration Open Now
PowerTest attendees are encouraged to take advantage of Early Bird registration discounts, available now through December 31, 2016. PowerTest 2017 registration or a social pass is required to attend all conference events and networking activities. Additional fees may apply. Discounts are available for NETA Accredited Companies and NETA Alliance Program subscribers.
Register for PowerTest 2017 at powertest.org or call 888-300-6382 (NETA).
About NETA
NETA is an ANSI Accredited standards developing organization that creates and maintains standards on electrical testing for electrical power equipment and systems. NETA is an association of leading electrical testing companies comprised of visionaries committed to advancing the industry standards for power system installation and maintenance to ensure the highest level of reliability and safety. Visit netaworld.org.