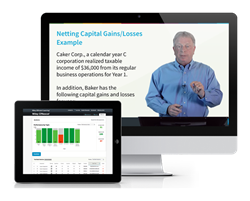 "Supporting busy students and professionals has been at the core of our design philosophy since inception. Our latest release with new "plan, study, assess" framework is another significant step in our courseware." Daniel Wood, VP Product Management, Test
Hoboken, NJ (PRWEB) September 28, 2016
Wiley, a leading publisher of exam prep solutions and online review courses for business, finance and accounting professionals, has updated the platform powering its popular Wiley CPAexcel Review Course.
The new course delivers the same proven content with a host of new features to prepare candidates for the CPA Exam now and for the 2017 CPA Exam:

Simplified Platform – our popular bite-sized lessons presented in a cleaner, more integrated learning experience
Smarter Planner – new flexible options to plan your schedule and keep you on track
Enhanced Metrics – a redesigned dashboard and syllabus give you more useful insights every step of the way
Personalized Lessons – drag and drop content to match your study style
New CPA Replica Exams – two full practice exams with unique questions timed and weight to match the exam
Mobile App – online and offline companion app coming next month
"Supporting busy students and professionals has been at the core of our design philosophy since inception. Our latest release with new "plan, study, assess" framework is another significant step in our courseware." Daniel Wood, VP Product Management, Test Prep and Professional Learning
Those in interested in learning more can watch a video tour to see how the new Wiley CPAexcel improves exam success with three simple steps. CPA Exam candidates can register for two weeks of complimentary access to all parts of the CPA review course.
New customers have immediate access to the new course. Existing customers will have access to the new course and continue to have access to the original version of the course for 6 months.
About Wiley CPAexcel
Proven to prepare students to pass for the CPA Exam at nearly twice the national average, Wiley CPAexcel CPA Exam Review offers a dynamic learning system that dramatically reinforces learning and retention. Concise, bite-sized lessons keep users focused while reviewing key concepts. Unique in the CPA Review industry, Wiley CPAexcel promises to be "your partner until you pass," providing students with unlimited free online updates and free course repeats until one year after they pass the CPA Exam. Wiley CPAexcel is a branded product of Wiley.
About Wiley
Wiley is a global provider of content and content-enabled workflow solutions in scientific, technical, medical, and scholarly research; as well as professional development and education.
Wiley has a long tradition of excellence in accounting, finance and business fields. The Wiley Corporate F&A series, classic textbooks like Kieso'sIntermediate Accounting, a wide-ranging list of academic journals including The Journal of Corporate Accounting and Finance, are just a few of Wiley's major accounting publications. Wiley also publishes authoritative annual guides to accounting and auditing standards, thought leadership for public and corporate accountants, and much more.