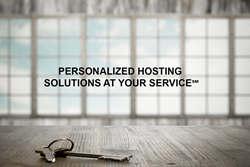 ServInt has done a great job taking over our AWS management quickly to replace an internal loss. We look forward to leveraging their expertise as we push our technology initiatives forward, states Ralph Linares, CIO Events.com. Through ServInt's AWS c
Reston, Virginia (PRWEB) September 27, 2016
ServInt announced today that it is working with Events.com to provide AWS Managed Services for complete support of Events' AWS production environments. ServInt is delivering a range of services including assistance with code deployments to the AWS cloud, backup and disaster recovery management, and continuous optimization of the environment to drive improved performance and reduced costs.
"ServInt has done a great job taking over our AWS management quickly to replace an internal loss. We look forward to leveraging their expertise as we push our technology initiatives forward," states Ralph Linares, CIO Events.com.
Through ServInt's AWS certified team, the company will monitor Events.com AWS production environment 24/7 and support daily operations to ensure Events.com experiences continuous, uninterrupted operations.
"We are extremely excited about launching our AWS management offering to our flagship customer Events.com. The collaboration between provider and customer has been the key to the success of this endeavor," says William Goss, COO of ServInt.
About ServInt
ServInt is a global Cloud Services Provider delivering public, private, and hybrid hosting solutions including AWS, Microsoft Azure, VPS, dedicated hosting and support packages to customized capabilities and managed services. Business and IT leaders, eCommerce providers, SaaS and software developers, web hosts, and full-service marketing agencies depend on ServInt for affordable infrastructure, support, custom solutions and personalized managed services that deliver performance, security, agility, and business growth.
ServInt supports small, medium and large enterprises across industries such as financial services, digital content providers, SaaS and developers, and healthcare. ServInt has been a trusted infrastructure provider for over 20 years bringing deep domain expertise, continuous innovation, and lasting value to its customers.
To learn more about ServInt's AWS services and other hosting solutions, please call 1-800-573-7846 from the USA (+1.703.847.1381, Intl.) or visit http://www.servint.net.