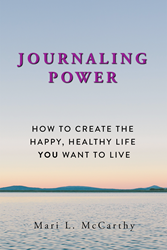 "In this book, Mari L. McCarthy reveals the full power of journaling, not only for people who have an illness, but for anyone who wants to unlock their personal creativity or find some more meaning and purpose in their life." ~Dr. David Hamilton
Boston, MA (PRWEB) September 27, 2016
Mari L. McCarthy announced today the release of her inspiring new book, Journaling Power: How to Create the Happy, Healthy Life You Want to Live.
Journaling Power teaches how to put the ultimate self-healing tool right at your fingertips—journaling. Through Mari's moving personal story, you'll discover how pen-to-paper journaling leads to self-growth and life-changing transformation.
You'll also learn that numerous medical studies prove journaling literally unleashes a healing agent that empowers your life in ways you've never imagined. "As the number of studies have increased, it has become clear that writing is far more powerful than anyone has ever dreamed," reports Dr. James Pennebaker.
No one knows this to be true more than Mari L. McCarthy. As a highly-successful business consultant, Mari routinely crisscrossed the country to provide solutions to a who's who of Fortune 100 companies. However, at the height of her career she was forced to shut down her business due to the ravaging effects of Multiple Sclerosis (MS).
In Journaling Power, Ms. McCarthy details the amazing story of how journaling reversed her debilitating MS symptoms– and allowed her to ditch her prescription drug routine forever.
Through step-by-step instruction, Journaling Power illustrates how you can use the holistic power of journaling to reduce stress, overcome fears, and heal your mind, body and spirit. All you need is an open mind and a pad and a pen.
"Remarkable, riveting and transformative," says New York Times bestselling author, Peggy McColl. "…Spoken from experience, inspired by passion and delivered with magnificence. Whether you journal or not…you will definitely want to dive in to discover how this one simple process can radically and positively impact your life in many ways. Highly recommended."
Mari L. McCarthy is a personal transformation guide, and the Founder and Chief Inspiration Officer of CreateWriteNow.com. She is the author/creator of multiple eBooks and Journaling Challenge programs that teach people throughout the world how to heal, grow, and transform their lives through the power of journal writing therapy.
Journaling Power is available at Amazon.
For more information, please contact Mari L. McCarthy at Mari(at)createwritenow.com