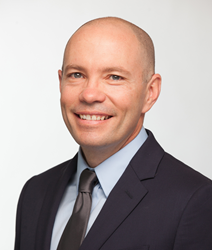 ALBUQUERQUE, NM (PRWEB) September 27, 2016
Lewis Roca Rothgerber Christie LLP announces that Ryan Kennedy has joined the law firm's Albuquerque office. He will be Of Counsel in the Intellectual Property practice group.
With extensive experience in data privacy and security, patent litigation, patent prosecution, and trade secrets and unfair competition, among other areas, Kennedy adds depth to the growing IP practice group and the firm's presence in New Mexico.
Prior to joining the firm, Kennedy was senior patent counsel at Los Alamos National Laboratory. His background includes preparation and prosecution of domestic and international patent applications in space systems, data science and analytical platforms, user-experience/user-interface applications, image processing, imaging systems, unmanned and autonomous systems, artificial intelligence, and cybersecurity and cryptography.
At Los Alamos, he provided intellectual property and business counsel to leadership, senior scientific and program managers on legal and other matters relating to the various missions of the Laboratory. In addition, Kennedy provided counsel and guidance on all aspects of software and patent licensing across a wide range of technical disciplines, as well as strategies and models for engaging in public-private partnerships, multi-sponsor technology transition, and collaborative research and development through various legal and business arrangements.
Kennedy is a member of the New Mexico State Bar, and admitted to the U.S. Patent and Trademark Office and Court of Appeals for the Federal Circuit. He earned his J.D. from the University of New Mexico School of Law, with bachelor's degrees in Physics and Philosophy from Swarthmore College, and completed a LL.M. in Taxation at Northwestern as well as independent study at Oxford University.
About Lewis Roca Rothgerber Christie LLP
Lewis Roca Rothgerber Christie LLP is an Am Law 200 commercial law firm for handling complex matters in litigation, intellectual property, business transactions, gaming, government relations and other practice areas. Lewis Roca Rothgerber Christie offices are located in Albuquerque, Colorado Springs, Denver, Las Vegas, Los Angeles, Irvine, Phoenix, Reno, Silicon Valley and Tucson.