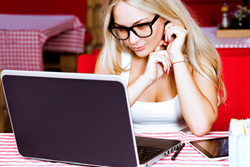 Our eyes do not provide enough protection against these blue light waves that are emitted from devices using LED back-lit technology
Miami, FL (PRWEB) October 04, 2016
Online specialty eyewear specialist GogglesNMore released Anti-Blue Light Glasses/Blue Block Glasses, that minimize harmful blue light emitted by smartphones, tablets, laptops and other digital devices. Released in time for the back to school season, when students are known to stare at screens for hours on end, these glasses protect against High Energy Visible (HEV) blue light that can permanently impair vision over time and disrupts normal sleeping patterns.
Blue light, located towards the violet part of the electromagnetic spectrum, has a very short wavelength; it produces a larger amount of energy compared to the rest of the visible light spectrum. Our eyes do not protect against these blue light waves that are emitted from devices using LED back-lit technology to make screens look bright and clear. Blue light is emitted by digital devices like cell phone, tablets or computers and televisions. As these products are used daily and for extended periods of time, symptoms like eyestrain, fatigue, headaches and more begin to develop. Over time, irreversible damage to retinal cells in the eyes begins to take toll that could lead to age-related macular degeneration (AMD) and cataracts.
"During a time when we're constantly staring at screens, it's important to protect our eyesight because once our eyesight starts to go, there's little we can do to get it back," said GogglesNMore General Manager of Marketing, Alex Johnson.
GogglesNMore's Anti-Blue Light Glasses (aka Blue Block Glasses) incorporate special patented lens technology into their lenses that minimizes the transfer of HEV blue light, while also delivering minimal color distortion - a common problem often found on other blue block lenses.
About Gogglesnmore
Based in Coral Gables, FL, GogglesNMore.com was started because it's founders saw the lack of affordable prescription goggles available for their fellow swimmers. The team may seem small with its roots as a family operated business, but it's made up of experienced Optometrists, Technicians and other experts that are passionate about delivering the best eyewear and service to their customers. The GogglesNMore team works hard to bring its customers quality prescription goggles and any other sports or regular eyewear, all at affordable prices.