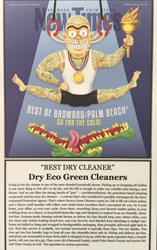 It's an honor to have been recognized by the New Times
Miami, FL (PRWEB) September 28, 2016
Miami based dry cleaners Dryeco Green Cleaners was named the editorial winner of the "Best of" award for Miami-Dade, Broward and Palm Beach by the New Times earlier this month, giving the business the official title of the best dry cleaners in South Florida. They received the winner's plaque from the major publication last month for display in the storefront.
The "Best of" award is part of a series of annual recognitions given by the top tier publication in South Florida, shining light on the best local businesses as voted on by the readership. Voters are typically comprised of loyal New Times readers, most of whom reside in Miami-Dade and Broward counties, making them very familiar in the the south florida businesses up for nomination. For 2016's awards, Dryeco beat out dozens of competitor dry cleaning companies due to excellence in not only service, convenience, price and coverage of delivery areas, but also for their cornerstone feature: their green business model.
"It's an honor to have been recognized by the New Times," said Dryeco president, Michael Shore, "Customer service, convenience and running a successful business is important, but nothing is more important than preserving our planet. I want to showcase that running a successful, thriving business never has to be at the expense of the environment or public health. I'm proud that Dryeco Green Dry Cleaners can be that example."
At the core of Dryeco's daily operations is a commitment to doing business in a totally green way; this includes giving customers recyclable laundry bags and reusing hangers, conservative water use and most importantly of all, the use of German-made, eco-friendly cleaning solvent "K4." K4 is used to clean all of Dryeco's charges instead of the widely used industry standard which is PERC or perchloroethylene; a petroleum-based compound that has been publicly identified as a possible carcinogen.
Dryeco was the first green dry cleaner in South Florida recognized by the Green Cleaners Council as a green dry cleaning company and has since racked up green awards from the council each year since 2009 through 2016. The consistency in service and eco-friendliness has also brought the company awards and recognitions in the past from other major publications such as local Aventura News and The Sunpost.
About Dryeco
Dryeco is a full service laundry and green dry cleaning company based in South Florida offering free pick-up and delivery all over Miami-Dade and Broward counties. With a unique commitment to the environment, Dryeco set a new standard in the South Floridian dry cleaning industry by using chemical-free, eco-friendly cleaning solvent K4 to clean garments instead of the more widely used petroleum based cleaner, PERC (Perchloroethylene). PERC is a known possible carcinogen that is harmful to the environment. With years of experience, Dryeco offers cleaning for everything from specialty couture and designer clothing as well as household, daily fabrics. Corporate and hotel cleaning programs are also available, among other services.