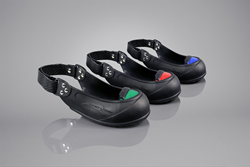 This will help enhance footwear safety, save time for workers, managers, investors, and visitors to high risk facilities by allowing them to simply slip on overshoes instead of having to change shoes completely
Miami, FL (PRWEB) October 04, 2016
eCommerce site Safety Company took on European product line TigerGrip last month, adding their safety overshoes to the site's offerings. This marks TigerGrip's debut in US online markets. The slip-on overshoes are specially designed to go over the existing footwear, allowing access in areas and facilities where steel toes are usually required. This eliminates the need to remove the non-compliant footwear altogether. It helps keep footwear and feet safe from accidents that may occur in high-risk environments.
TigerGrip's functionality comes from its design. These safety overshoes are extra light for comfort and feature an aluminum/titanium cap that provides up to 200 joules of resistance. The aluminum/titanium cap combination provides the same protection albeit weighing 50% lighter than its steel counterpart. Available in 3 sizes, these safety overshoes include a color-coded cap to identify each size at a glance. The velcro comfort strap makes them adaptable to any shoe size and any type of footwear, even high heels. Its anti-slip technology sole makes walking on wet or greasy surfaces easily and greatly reduces the risk of injury.
"It's exciting to be able to bring this new, innovative product into the US market," said Safety Company President, William Chao. "This product has enjoyed great success overseas and I think now is the perfect time to introduce it to US based businesses. This will help enhance footwear safety, save time for workers, managers, investors, and visitors to high risk facilities by allowing them to simply slip on overshoes instead of having to change shoes completely."
Manufactured in Europe, TigerGrip's safety overshoes bring overseas innovation to the US workplace, thanks to Safety Company. Now available on their eCommerce site, the European brand's, widely successful safety overshoes will help protect everyday footwear and provide convenience in a simple, ergonomic design.
About Safety Company
SafetyCompany.com is committed to providing the top safety products for companies of all kinds, keeping workers safe and companies protected. When working in hazardous conditions or in a workplace environment that has the potential for danger, to be equipped with the necessary safety equipment to stay unharmed is of the utmost importance. Safety Company take prides in providing companies with high quality products that ensures peace of mind and increased productivity in the workplace.