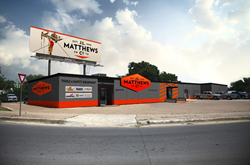 If you treat your customer right, then you have a customer for life.
Fort Worth, TX (PRWEB) September 28, 2016
Founded in 1946 by Former President Joe Matthews (1912-2010), J.L. Matthews Company has grown to service an international customer base of lineman, arborists and ironworkers. Joe's leadership, passion and attention to detail can attest to the fact that many lineman to this day still use safety equipment based on his original designs and inventions.
Joe's son and Former President Gary Matthews, joined the company in 1960 by helping his father manage distribution while sewing belts and straps that lineman trust with their lives. Under Gary's leadership, business grew exponentially and the company expanded its product line to include tool and safety equipment for lineman, arborists and ironworkers.
Danny Matthews, President, J.L. Matthews Company continues the family operated tradition along with his wife and children. "Danny supports and believes in what I have brought to the company. We started as a catalog company but the internet has taken over so much more of the way our customers make purchases," said Jennifer Matthews, Business Manager, J.L. Matthews Company "We are very alike when it comes to our desire to serve customers with incredible customer service."
For nearly four decades, Danny Matthews has upheld the core values which J.L. Matthews prides itself - building trust and relationships with personalized service, stocking high-quality inventory for same day shipping, and value pricing for customers. With unsurpassed industry knowledge and a dedication to continued training, Danny Matthews has taken J.L. Matthews to new heights with plans for a fourth generation to uphold these same values for years to come.
"We are celebrating our 70th year in business and I am really looking forward to hitting 75 years," said Danny Matthews, President, J.L. Matthews Company "I am most excited to see what the future holds. I truly believe we are positioning J.L. Matthews to be an industry leader and force in the arborist, tower, and 70E sectors - just like we are for the electric utilities industry."
With a long history of giving back, Danny continues to serve on the Advisory Committee for many of the nation's Lineman Schools while offering special pricing and guidance to newly graduated students. Among many sponsorships, J.L. Matthews has supplied the International Lineman's Rodeo & Expo with mannequins for their Hurtman Rescue events since the turn of the century.
Danny continues, "For 70 years, we have considered all lineman apart of our own family. It's not about the money; it's about the service you provide to others that makes this job great. We truly thank and honor all of our unsung heroes."
About J.L. Matthews Company Inc.
J.L. Matthews Company Inc. was founded in 1946 as a manufacturer of lineman's belts, holsters, pole straps, and accessories. Over the years, J.L. Matthews Company has grown to offer an array of products for lineman, arborists and ironworkers, while always keeping a core focus on customer service, safety and education. For more information about J.L. Matthews, visit JLMatthews.com.