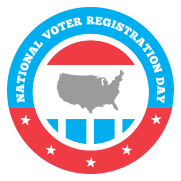 NEW YORK, NY (PRWEB) September 27, 2016
WHAT: Starting at 8:30am ET on Tuesday, September 27, 2016, National Voter Registration Day will kick off with an event at Twitter's headquarters in Washington D.C., and will continue throughout the day with more than 600 national and grassroots events across the nation as part of a massive 50-state effort to register thousands of voters.
WHY: 2016 will be a historic election year. The goal for the 2016 National Voter Registration Day is to increase participation by encouraging Americans to register to vote and come out to the polls this November. In 2015, President Obama announced the White House's official support of the day, joining with state election officials of the nonpartisan National Association of Secretaries of State (NASS) that has been championing the holiday since 2012. National Voter Registration Day counts on thousands of partners and volunteers across the political spectrum and is designed to create an annual moment when the entire nation focuses on registering Americans to exercise their most basic right—the right to vote. Americans can register at hundreds of events across the nation and online at http://www.NationalVoterRegistrationDay.org. Supporters can also follow National Voter Registration Day activities through social media on September 27 by searching #VoterRegistrationDay.
WHEN: National Voter Registration Day, Tuesday, September 27, 2016
WHERE: Nationwide
WHO:
Twitter, 800 Connecticut NW, 5th floor, Washington D.C. 8:30am to 10:00am ET
This event is the official kick-off to a day-long set of activations in every corner of the country with over 3,600 partner organizations, artists, and businesses and over 10,000 volunteers. Twitter's VP of Public Policy and Philanthropy, Colin Crowell, will introduce the panel. Panel members include: Michelle Jaconi (moderator), Senior Advisor, Independent Journal Review; Rich Taylor, Senior VP, Communications and Industry Affairs, Entertainment Software Association; Wesley Lowery, National Reporter, The Washington Post; Mindy Finn, Political Consultant & Digital Strategist; Reggie Love, former special assistant to President Obama.
Starbucks, Rufus King Park, 150 Jamaica Ave, Queens, New York, 11:00am ET
On National Voter Registration Day, Starbucks will partner with Democracy Works and the Jamaica, Queens, community to host a Turn Up the Vote event featuring Starbucks CEO Howard Schultz and Oscar and Grammy award-winning artist Common with a Block Party in Jamaica Queens at the Rufus King Park in New York.
MTV, New York, New York, 6:00pm ET
MTV's classic franchise "TRL" will return for one day only as "Total Registration Live," an empowering live special that will rally Millennials to register to vote. The one-hour live show will broadcast from the home of TRL on Tuesday, September 27 at 6:00 p.m. ET/PT on MTV. Guests will speak out on the issues at the center of the 2016 election and empower viewers to register to vote. The special guests will include Grammy-nominated R&B superstar and Respect My Vote! Ambassador, Ty Dolla $ign performing "Campaign," "No Justice" and "Zaddy" from his brand new project "CAMPAIGN," appearances by model and Rock The Vote spokesperson Kendall Jenner, Director, Producer and Writer Joss Whedon, Fifth Harmony's Camila Cabello, rapper Vic Mensa, actress Natalia Dyer, actor and singer Mack Wilds and more, along with MTV's Nessa who will host. Also on-hand will be MTV News' Senior Political Correspondent Ana Marie Cox and Senior National Correspondent Jamil Smith.
NextGen Climate America, Wanderlust, 1357 Highland Ave, Hollywood, CA 6:30pm PT
A private event, sponsored by NextGen Climate America, is open to National Voter Registration Day partners, elected officials, activists, sponsors and select influencers. The event will feature live performances from various artists and a PSA-filming booth for guests to record why registering to vote matters to them.
National Activations
ATTN:
ATTN: launched the 3 Minutes campaign, an initiative aimed at encouraging voter participation. Registering to vote takes less than 3 Minutes, but that small investment can make a huge impact. There are many important issues at stake in this election. ATTN: partnered with various celebrities and influencers on issue-driven videos that also show people that registering to vote is a quick and simple way to make a difference. What do you have 3 Minutes for? attn.com/vote
Asian and Pacific Islander American Vote (APIAVote)
Hosting a media briefing call at 1pm ET featuring members of Congress, including: Representative Judy Chu; Representative Grace Meng; Representative Bobby Scott, as well as various local and state-level elected officials, including Virginia Delegate Mark Keam and Assemblyman Raj Mukherji. APIAVote will also support local voter registration drives in AZ,CA, IA, MI, MO, NM, NV, OH, OR, PA, RI, TX, UT, WA, WI, and VA.
Fox Searchlight Pictures
In theaters across the nation, Fox Searchlight Pictures will be launching a Nationwide Voter Registration initiative to encourage Americans to register to vote. They have aligned with theater chains and voting partners who will hold voter enrollment in theater lobbies on National Voter Registration Day prior to special promotional screenings of 'The Birth of a Nation.' The initiative will continue opening weekend of 'The Birth of a Nation,' October 7th-9th, 2016. The acting talent from 'The Birth of a Nation'—Nate Parker, Colman Domingo, Aunjanue Ellis, Aja Naomi King and Gabrielle Union—have recorded a PSA to raise awareness about exercising the right to vote which will be shown prior to the promotional screenings.
Google
Google has added in-depth information in Search for "registration" and "how to vote", and now they're adding this same information in Spanish. Now, both Spanish and English speakers will be able to get custom, state-by-state information on key registration deadlines, when to get to the polls, and even steps on how to vote early or by mail just by doing a Google search.
HeadCount
Partnering with over 300 musicians and comedians to promote voter registration on social media while also mobilizing volunteers on the ground in 51 communities around the country, including a major push in New York City. Supporters include Stephen Colbert, Questlove, Jack Johnson, Kathy Griffin, Kings of Leon and Weird Al Yankovic.
League of Women Voters
Over 350 local Leagues of Women Voters host voter registration drives in their communities and encourage voters desiring more information to visit Vote411.org, the League's year-round source of information for accurate and localized election information.
Nonprofit Vote
Over 1,000 community-based nonprofit service providers across all 50 states will be providing voter registration services on-site or encouraging their clients to register thanks to recruitment by Nonprofit VOTE, the National Council of Nonprofits, United Way Worldwide, and Independent Sector.
Patagonia
Individual Patagonia stores across the country will be hosting voter registration drives and after-parties for volunteers taking part in National Voter Registration Day activities. In New York, Patagonia staff from their stores will volunteer to register voters. Patagonia will also make an online push through social media channels.
Rock the Vote
For National Voter Registration Day, Rock the Vote's Truth to Power battleground state bus tour will be headed to one of its college campus tour stops, and will be joined by various nonprofit and corporate partners, student groups and local grassroots organizations helping to register young voters ahead of their states' upcoming deadlines. Rock the Vote will also host a #VoterRegistrationDay edition of Reddit's Ask Me Anything, where they'll focus on the issues young people most care about, answer questions about state voter registration deadlines and more. Additionally, the popular youth voter registration organization is activating all of its Corporate Civic Responsibility partners to promote voter registration to their users, customers and employees. Stay tuned as well for Rock the Vote supporter videos and PSAs from talent including will.i.am, Ty Dolla $ign and others, along with a video from a group of incredible students in the battleground state of North Carolina.
Tech:NYC
Tech:NYC is partnering with National Voter Registration Day and Headcount to provide in-office resources to register employees and other New Yorkers IRL. Mobilizing through #TechTurnsOut, they will work with tech companies across New York City to increase voter registration and turnout among their employees and the public. The effort includes companies like AOL, Bitly, Etsy, Foursquare, JustWorks, Kickstarter and Twitter.
Tumblr
As a supporter of National Voter Registration Day since its inception in 2012 -- driving 100K registrations in 2012 and 30K in the 2014 midterm -- this year Tumblr will link logged-in users in the U.S. directly to the National Voter Registration Day voter registration landing page via a prominent button on the right side of the Tumblr dashboard. They will also give blog owners the option to steer all of their web visitors to go register.
Twitter
Twitter has launched an official hashtag and emoji for voter registration efforts: #iRegistered. When a tweet includes the hashtag, a patriotic hat and 2016 will automatically appear.
Univision
126 radio and television stations will host and/or promote community call centers to guide callers through the voter registration process. Members of the community will be able to call in and talk to experts from the National Association of Latino Elected and Appointed Officials (NALEO) and Mi Familia Vota, among others, with registration questions or help. In February, they also launched a bilingual text message tool that allows users to text VOTE or VOTA to 21333 and gain access to informative videos and tips on how to participate in the election.
Video Game Voters Network
A grassroots network of gamers and the video game industry are partnering to release new content throughout National Voter Registration Day that will encourage America's 114,000,000 voting-age gamers to get registered to vote and turn out to the polls this November.
Vote.org
Volunteers and organizers will send 100,000 person-to-person text messages to unregistered voters encouraging them to register.
Media Contact:
Megan Noller, Elle Communications
megan@ellecomm.com
424-634-8370