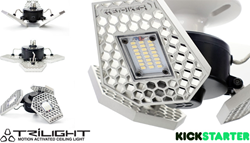 As EASY as screwing in a light bulb!
Mooresville, NC (PRWEB) September 28, 2016
Striker Concepts is pleased to announce the launch of a Kickstarter Campaign that will allow the public to meet and help launch their new concept, The TRiLIGHT. The TRiLIGHT is a patent pending, motion activated ceiling light for the garage, basement, or any room in the home that requires more power and sophistication than a traditional light bulb. Most importantly, it delivers the power of a lighting system that typically requires an expensive install by a licensed electrician, but it is as easy as screwing in a light bulb.
"Many garages only have one or two small light bulbs which are tasked with illuminating what is typically the largest room in your home. The end result is insufficient lighting in a room we visit several times a day," says James Burry, Owner of Striker Concepts. "We believe the Striker TRiLIGHT is going to be that simple and cost effective solution that consumers have been needing for years, and the Kickstarter community is going to help us make it a reality."
The TRiLIGHT boasts an impressive 3000 lumens of light output. Compared to a traditional 60 watt bulb producing 800 lumens of light, the TRiLIGHT is a powerhouse. Additionally, The TRiLIGHT only draws 25 watts of power. This is not only environmentally friendly; it will save money on the power bill every month.
The TRiLIGHT also features an ultra-sensitive motion sensor, which will detect your presence when you enter the room, or detect the motion of the garage door when you drive home at night. The TRiLIGHT produces 3.8 times the illumination of a traditional garage door opener light, ensuring that garages are well lit when drivers arrive home at night. The TRiLIGHT automatically turns off when no motion is detected. Additionally, users can opt to turn off the motion sensing feature.
Although the TRiLIGHT is the first Kickstarter project that Striker Concepts has launched, it isn't their first product launch. Since starting Striker Concepts in his garage back in 2005, James and his team have found success with several of their innovative, patented, and award-winning products. They are confident that the TRiLIGHT is going to be another great product, and they look forward to working closely with the forward thinking Kickstarter community to bring it to reality.
To view our Kickstarter page, product videos and pictures, or to contribute to this Kickstarter campaign, please visit: Striker_TRiLIGHT_on_Kickstarter
The Striker TRiLIGHT will be available in November and the MSRP is $129.99. For more information on Striker Concepts, and their product line, please visit http://www.strikerconcepts.com, or call Striker Concepts at 704-658-9332.
Note: Editors can download 300dpi photos & Press Release at: http://www.striker1.com/press_2.html.
Since April 28, 2009, 12 million people have backed a project on Kickstarter, $2.6 billion has been pledged, and 112,154 projects have been successfully funded. For More information about Kickstarter, click here for the "Press Room": Kickstarter/PRESS