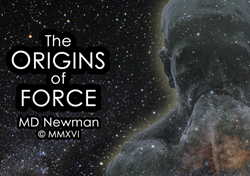 It is a remarkable achievement in thinking outside the box
Los Angeles, CA (PRWEB) September 27, 2016
Finding an answer to the mystery of gravity has been the elusive Holy Grail of all scientific quests. According to a groundbreaking theory recently published in the new book, The Origins of Force, the energy that produces the Earth's gravitational force doesn't originate from the planet itself. Instead, gravity is an effect of the infinite amounts of energy prevalent throughout the universe and bombarding the Earth at all times. The always-attractive nature of gravity is merely an illusion from looking at the phenomenon the wrong way.
The Origins of Force, by MD Newman, presents such a simple and intuitive solution that it's causing a ripple-like paradigm shift in thinking among engineers, physicists, and armchair space enthusiasts across the world. After over 30 years of effort, Newman is being hailed by many as a modern-day Einstein for his contribution in this field.
In only 42 concise pages, with plenty of illustrations to help guide readers at any level, understanding gravity is just the beginning. Newman establishes his perspective on how gravity works, and then applies the same principles to explain magnetism, inertia, gyroscopes, the expansion of the universe, and Nature's very mechanism that turns pure energy into matter.
A recent post from an enthusiastic reader on Amazon.com states: "This book presents a brilliant and compelling argument for the origin and nature of forces that govern our universe. This is a must read for everyone, as it is not written only for physics majors, but for the layperson." Another reader commented, "This thoughtful treatise on the forces controlling our universe explores our understanding of basic laws of physics from a truly unique perspective. It is a remarkable achievement in thinking outside the box"
Newman concludes his work by directly expressing an impassioned plea to scientists through the ages to come: "Our only hope for survival is interplanetary colonization, and overcoming gravity is a matter of life or extinction. May we all work together to accomplish this vital endeavor."