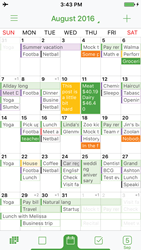 "Share schedules with family."
(PRWEB) October 05, 2016
EverCal - Family Organizer (http://itunes.apple.com/app/id1067843452?mt=8) by Yunasoft Inc. is an extremely handy calendar application for whole the family, with a very easy user interface that helps users manage their daily lives and keep both family and business contacts in the loop.
The app is compatible with the iPhone, iPod and iPad and the minimum iOS that it requires is 8.0. EverCal is free to download and $29.99/year for premium service.
EverCal's features include:
3-in-one Application:

Manage notes, journals and to-do lists all in one place. Add journals and to-do lists to calendar and categorize them all by color coding and custom fonts.
Share Everything With Family:

Easily share schedules. Large families often have a confusing list of things to do and appointments to keep. EverCal is here for help with schedule sharing. This is a perfect solution which allows whole family members to share their schedules, notes and to-do lists. Simply create a family and join. EverCal will do all the hard work automatically and intelligently. All materials are easily recognizable since EverCal uses different color codes for each family member. Private options are also included. Certain schedules can be made private if one chooses not to share it with family, or other members' schedules can be turned off if one does not want to be confused with them.
One upgrade will cover everyone in the family.
Natural Language Input:

Schedules can be created with ease. Users can say goodbye to long, confusing and sometimes frustrating procedure of creating schedules. There is no need to set a schedule manually anymore. For example, one can type, "Meet Robert at Dome cafe tomorrow" and EverCal does the rest. EverCal understands the plain language and turns it into schedules in the user's calendar.
Easily Track Schedule:

Custom color-code schedules according to activities like work, home, project or private.
Conveniently view schedules. View all schedules and notes at a glance in weekly, monthly or list views not just as a dot view, but as readable contents without the need to touch the schedules.
Attaching photos to schedules is extremely convenient. More details and options can also be added to schedules, including setting time zone, alarm, attendees, and repeating schedules.
All Features:

Create a family calendar and share all family schedules, notes and to-do lists.
Plain language input for creating schedules.
Make a schedule private or public.
Search schedules, notes and to-do lists.
Attach photos to schedules.
Set alarm schedule reminder.
View all schedules in monthly, weekly or list view.
Create and manage to-do lists.
Order to-do list items by priority.
Multiple sub items for each to-do item.
Birthday or anniversary settings.
Customize and manage daily, weekly, monthly or yearly repeating schedules.
Make simple notes on calendar view.
Monday or Saturday week start.
Various color themes.
Customize fonts and font size.
Color coding.
Email or print output.
Timezone support.
Some features listed above are available for premium subscription. EverCal Premium is $29.99 USD per year (price may vary by location), and the subscriptions is charged by iTunes account. We offer 3 month free trial for EverCal Premium. Whenever users don't want to pay or stop using Premium, they can manage their subscription in iTunes.
About Yunasoft Inc.
Yunasoft Inc. is well-known for the AwesomeCalendar application, and dedicated to creating social mobile applications that better people's lives. A young company founded by Robert Kwon in April 2011, Yunasoft has a vision of reaching and helping people across the globe with their products.
Terms of use: http://wp.me/P1YDeW-qa
Private policy: http://wp.me/P1YDeW-q7