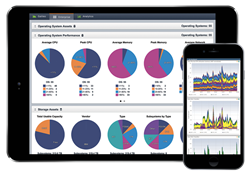 Philadelphia, PA (PRWEB) September 28, 2016
Galileo Performance Explorer™— the industry's first easy-to-use, cloud-based integrated infrastructure performance management (IPM) suite for servers, storage and SAN, developed by the ATS Group, announced today the immediate availability of performance monitoring solutions for the NetApp Flexpod Solution.
"The Flexpod solution is a joint innovation of CISCO and NetApp technologies and is a predesigned, base configuration built on Cisco Unified Computing System, Cisco Nexus, and NetApp storage components with VMware vSphere and vCenter," said Tim Conley, co-founder and Principle at Galileo. "Groundbreaking all-flash technology from NetApp and Cisco gives customers high speed application performance and agility to respond to business demands."
As an integrated cloud based performance monitoring solution, Galileo is perfect complement to this innovation and can monitor Flexpod IT performance on premise, in the cloud or hybrid environments. Galileo is a cloud based SaaS solution that can be deployed quickly and inexpensively across the Flexpod components in less than two hours with reporting in five minutes or less. Galileo breaks through the IT information fog to deliver the information IT truly needs to be business centric. With Galileo's IT Intelligence Dashboards C-level executives and data-center professionals are able to make informed strategic decisions based on reliable information on Flexpod performance, capacity, and configuration:

Intelligent reporting delivers the information required to deliver application performance that drives business outcomes
Predictive analytics make IT agile by reducing or eliminating downtime and slowdowns in IT infrastructure that impact applications and end user experience.
Galileo's budget friendly SaaS deployment model make installation and support a non-issue greatly reducing Capex and Opex while making existing IT professionals more productive.
Visit the Galileo website for more information on performance monitoring solutions across a broad range of server, storage, SAN and applications. All Galileo capabilities are accessible for evaluation via a demo with preconfigured data, a free 30-Day Trial using proprietary own data, or by requesting a sales consultation.