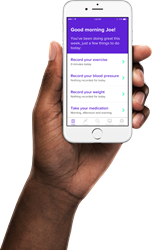 For us, this work represents a tremendous opportunity to provide quality care to our nation's Veterans.
Atlanta, GA (PRWEB) September 28, 2016
The Atlanta Veterans Affairs (VA) Medical Center, in partnership with Moving Analytics and the VA Center for Innovation, is testing how a smartphone-enabled home-based cardiac rehabilitation program can lead to improved outcomes for Veterans who have experienced a cardiac event such as a recent heart attack. The program also aims to expand access to this vital medical service for more rural Veterans who often have difficulty participating in traditional center-based programs.
"When we reviewed our internal data, we realized that only 10% of our eligible Veterans were successfully enrolling in a cardiac rehab program. This made us realize that we could do a lot more to help the remaining 90% receive the same benefits that cardiac rehab provides," said Arash Harzand, MD, a Research Fellow at the Atlanta VA.
Under the pilot program, up to 50 Veterans with a qualifying cardiac condition will be enrolled and provided with a customized smartphone application. The mobile app will guide them through a 12-week home-based rehabilitation program that includes daily exercise, weight and blood pressure monitoring, and education on healthy living and lifestyle choices. It also allows them to record their activity and vital signs. They will also participate in weekly telephone coaching sessions with a VA rehab care manager who can monitor their progress through an online dashboard and recommend any changes that are needed.
"This simple and innovative approach of using mobile technology to empower patients to recover and increase their physical activity is possible through the collaborative nature of the VA Center for Innovation and our partner in industry." said Maziar Zafari, MD/PhD, Chief of Cardiology at the Atlanta VA.
"For us, this work represents a tremendous opportunity to provide quality care to our nation's Veterans. We are excited to work with such an innovative team at the Atlanta VA and the Center for Innovation," said Harsh Vathsangam, CEO of Moving Analytics. "Our mission is to really solve the issue of access to cardiac rehabilitation and home-based approaches represent a great opportunity to move the needle."
The pilot is one of several being supported by the VA Center for Innovation (VACI) through their new Innovators Network initiative.
"VA Center was Innovation was thrilled to collaborate with Moving Analytics via our VA Innovators Network Program," said Andrea Ippolito, Innovators Network Lead at the VACI. "This was an incredible opportunity for us to introduce a new transformative cardiac rehabilitation program to better serve Veterans and their families at the Atlanta VA."
The pilot program aims to build on ongoing home-based rehab initiatives across the VA by understanding how technology can play a role in further enhancing care and extend the Veteran-VA relationship beyond the four walls of the hospital.
About the Atlanta VA Medical Center
The Atlanta VA Medical Center (VAMC) is a level 1A tertiary care facility providing patient-centered healthcare via an array of comprehensive medical, surgical, geriatric specialty services, as well as state-of–the-art diagnostic testing throughout 14 sites of care. With 445 inpatient beds, including a 120-bed Community Living Center, a 40-bed domiciliary, and a 12-bed Residential Treatment Program, the Atlanta VAMC is uniquely positioned to serve the healthcare needs of more than 130,000 enrolled Veterans living in 50 counties across northeast Georgia. The Medical Center, also a teaching hospital, provides hands-on and state-of-the-art technology, education and research to residents in collaboration with Emory University School of Medicine and Morehouse School of Medicine.
About the VA Center for Innovation
The VA Center for Innovation identifies, tests, and evaluates new approaches to efficiently and effectively meet the current and future needs of Veterans through innovations rooted in data, design-thinking, and agile development. From empowering patients with access to their own electronic health records, to providing clinicians with time-saving and life-saving mobile technology, our innovations are measured by their ability to improve the quality of VA care and services, increase access to those services, reduce or control costs, and improve customer satisfaction.
About Moving Analytics
Moving Analytics is a digital health company based in San Francisco, CA. We help hospitals implement evidence based remote cardiopulmonary rehab programs delivered through patient's mobile devices. Our product is based on 20 years of research from Stanford University. Our customers include leading health systems including NYU Langone, Keck School of Medicine, Mayo Clinic and LourdesCare Cherry Hill. We're backed by an exceptional investors including Launchpad Digital Health and HealthX Ventures.