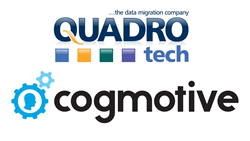 Zug, Switzerland (PRWEB) September 27, 2016
QUADROtech today announce their intention to acquire Cogmotive to create better software solutions for customers, partners, and the wider Office 365 community. Under the deal, Cogmotive will become part of the QUADROtech Group of companies whilst retaining the Cogmotive brand, staff and structure to continue development and delivery of its market-leading Office 365 Reporting platform.
Thomas Madsen, Chairman of the QUADROtech Group said, "Our driving desire at QUADROtech is to create deep value for customers through the intelligent migration of data to Office 365. Cogmotive adds to the value we offer customers by making sense of how their data is used and accessed once the data is safely moved to Office 365."
"QUADROtech's experience in developing and deploying software agents to gather and provide information from on-premises servers teamed with Cogmotive's ability to intelligently report and analyze Office 365 data means that we can provide better solutions for customers with on-premises, hybrid, and cloud environments," Mr Madsen said.
Alan Byrne, CEO of Cogmotive said, "When we first starting talking to QUADROtech, it became clear that considerable alignment existed between the two companies.
"Together, Cogmotive and QUADROtech create an end-to-end solution giving customers an accelerated route to Office 365 alongside deep analysis and reporting of their Office 365 usage.
"Through our joint capabilities, customers can continue to measure and achieve the full value of their Office 365 investment long after the migration has completed," Mr Byrne said.
With more than four million Office 365 seats signed up for Cogmotive reporting, thousands of customers trust Cogmotive to deliver deep analytics of their Office 365 environment.
Yesterday at the Microsoft Ignite conference in Atlanta, Cogmotive unveiled the powerful new Discover & Audit module to enable security and compliance officers to analyze and understand the data employees access in Office 365 and to manage data and investigate security incidents.
Cogmotive offers a suite of over 100 reports covering all major Office 365 services including Exchange Online, Skype for Business, SharePoint Online and OneDrive for Business, helping customers gain the business insight to control their Office 365 environment on a global scale.
Cogmotive will continue to deliver services directly to customers using its existing infrastructure and personnel, and remains deeply committed to safeguarding customer data privacy and security for its thousands of valued customers.
About QUADROtech
QUADROtech (http://quadro.tech) is a hybrid ISV/MSP that helps customers to optimize their operations and empower their employees to collaborate and be productive anywhere on any device by bringing ALL their email data (live mail, email archives, PST files, and public folders) home to Microsoft Office 365 and Azure.
QUADROtech's staff of industry experts and its worldwide network of partners work in collaboration with Microsoft account teams and the Microsoft FastTrack Centers in enterprise and midmarket accounts globally to overcome barriers to cloud adoption and drive deep and rapid active usage of Office 365 and Azure.
QUADROtech is a trademark of QUADROtech Solutions AG. All other trademarks are the property of their respective owners.
About Cogmotive
Founded in 2012, Cogmotive's mission is to help Systems Administrators and IT managers save time by automating technology processes to give them better visibility of their cloud environment. Used in every sector of industry, Cogmotive's reporting solutions are used to manage over 4 million Microsoft Office 365 seats.
Cogmotive's flagship Office 365 Reports product was the first of its kind and continues to include innovative new features to help customers using Office 365, Microsoft's cloud-based productivity suite, and to get the visibility they need.
In 2015 Cogmotive launched its second product, SharePoint Online Reports, and currently has the third in the final stages of beta testing. Launching soon, Cogmotive Discover & Audit leverages the Office 365 Management Activity API to collect data on all your employees' Office 365 activities including every file modified, every login attempt, every password change, every mailbox access and more. Using this information, organisations know exactly what's happening in their Office 365 environment and are able to detect suspicious activity, audit security, and monitor compliance with regulatory requirements.