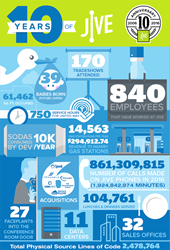 To celebrate our 10-year anniversary, we're pleased to announce 10 company-wide service projects, one project for each amazing year.
Orem, Utah (PRWEB) September 27, 2016
A decade ago, Jive Communications entered the telecommunications industry with a handful of clients and six founders determined to change the world by offering better, less expensive business phone systems. Now Jive has hundreds of thousands of users, and more than 400 employees in seven states and four countries. With a love for development, dedicated and talented employees, and a bootstrap culture that rewards creativity and hard work, Jive looks forward to continued growth and success.
With year-over-year growth, Jive looks back at some of the company's favorite moments:
2006: Moving from Agile Studios to High Tech Headquarters. The first Jive Hosted PBX servers sat in the basement of Agile Studios, a small building in Orem, UT. Situated next to an Arby's, it featured 70s-style decorating and a unique layout—complete with a square office in the middle of the office floor that early Jive employees dubbed "the Donut Hole." Ten years later, Jive has offices all over the world, with a headquarters located in a high rise off I-15, Utah's major corridor.
2007: Launching the Dial Plan Editor. Jive's Dial Plan Editor has helped customers all over the world better manage their office phone systems. "It's the only tool in the industry that lets you map out your call flows visually using a drag-and-drop canvas," said John Pope, CEO. "Our customers appreciate being able to plan where incoming calls will go with elements like wait times, auto-attendants, voicemail boxes, sound clips, http notify nodes, ring groups and modify caller ID nodes."
2008: Creation of the Partner Program. Jive launched a partner program designed to reach more potential customers through managed service providers, telecom brokers, and value-added resellers. Partners can sign up as authorized resellers or full-service partners and enjoy industry-leading commission rates and substantial residual income streams in return for offering Jive's Unified Communications products to clients.
2009: Launch of the K12 Vertical. School districts all over the county have found Jive to be a top Hosted VoIP provider and a welcome solution to their communication needs. Jive provides schools with custom-built solutions that make communication easier and more effective for parents, teachers, and administrators.
2010: Jive Hits 100 Employees. By 2010, Jive went from a handful of founders to 100 employees, growing every department within the company.
2011: John Pope Named Jive CEO. With Jive's year-over-year growth, the company needed a CEO that had extensive entrepreneurial and sales experience. Pope was one of the original founders, and the board of directors recognized his talents in motivating employees, driving sales, and growing companies.
2012: Jive Begins Annual Employee Retreats. Jive leadership wanted to show employees how much they were appreciated, and invited employees and their families to a weekend retreat in Park City, Utah, where lifelong memories were created. Since then, Jive has held a retreat every year, sometimes returning to scenic Park City, and other times traveling to locales like Las Vegas.
2013: Growth Funding From North Bridge Private Equity Group. North Bridge invests in exceptional companies whose ideas have the potential to disrupt the status quo and improve the way people live and work. With Jive's focus on changing the world by offering companies affordable business VoIP service, it was a perfect partnership.
2014: The Frost & Sullivan Award. Jive was named "Entrepreneurial Company of the Year." The award recognized Jive's incredible growth, the company's unique and innovative cloud services, and its industry-specific go-to-market strategies.
2015: Introducing the Jive Jeep. In 2015, Jive welcomed a new member to the family. The Jive Jeep has built quite a large fan base, and was created from a 2012 Jeep Rubicon Unlimited by Jive customer West Coast Customs. The Jive Jeep is outfitted with custom hardware from the nation's top off-road brands, making it 4,000 pounds of green-coated awesome.
2016: Sponsoring the Jive 05 Car in NASCAR. The company took on the NASCAR speedways with the Jive 05 car. Check out the race schedule, and join Jive in cheering for John Wes Townley, a veteran of the NASCAR Xfinity Series, NASCAR Camping World Truck Series and ARCA Truck Series.
As Jive has always focused on philanthropy, it makes sense for the company to celebrate its success with service. "To celebrate our 10-year anniversary, we're pleased to announce 10 company-wide service projects, one project for each amazing year," said Paul Thatcher, Jive Director of HR. "A few of the first projects include providing essential items to refugees, teaching children to read, supporting our military, and organizing a book drive. We want our employees to remember this year as the best year of their career—a year where they got out of the office and made a big difference in the community."
Join the year-long celebration on Facebook, where Jive will live stream the service projects and hold social media contests.