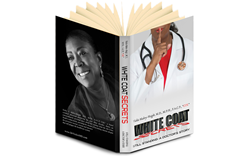 Be Empowered To Turn Your Dreams Into Reality!
RANCHO MIRAGE, CALIFORNIA (PRWEB) October 09, 2016
White Coat Secrets: Still Standing A Doctor's Story, details a rarely shared perspective behind the doctor's white coat. It reflects on a Black woman's journey in pursuit of her dream that is filled with triumph, adversity and wisdom. This book is inspirational and motivating for students with dreams of entering the medical profession, as well as healthcare professionals contemplating ways to maximize their career choices.
White Coat Secrets is just what the Dr. Mabry-Height prescribes for anyone looking to achieve their dreams despite their circumstances. Her new memoir highlights her experiences as a black woman in medicine – and valuable lessons learned along the way.
Dr. Mabry-Height, also known as "Dr Vickie MD" shares an extraordinarily personal account of her career. From humble beginnings, her childhood spans both growing up in the Jim Crow cotton fields of Greenville, North Carolina and surviving the inner city ghettos of Brooklyn, New York. After becoming a board certified physician, practicing medicine for more than three decades, Dr. Mabry-Height challenged herself with authorship of White Coat Secrets: Still Standing A Doctor's Story where she shares real life encounters and exposes the widespread injustices that still plague the heath care system to this day. In the face of tough circumstances, racism, sexism and health disparities she persevered as a physician entrepreneur. Exposed are the untold secrets of hidden opportunities as well as motivational messages and other candid truths along her journey. Her passion for helping improve care for patients as well as international volunteerism is highlighted. Her story is empowering and a "real" account from a perspective rarely shared as a female doctor of color. White Coat Secrets: Still Standing A Doctor's Story is a must read for aspiring healthcare practitioners.
READER REVIEWS
"Here's a story not to be missed. A remarkable and resilient woman, who against all odds and the naysayers overcame one challenge after another and persevered! Her journey as told in this touching memoir gives us all hope and the confidence to stay the course no matter how difficult the journey." - Physician, Harlem, New York
"As a second year medical student this book was an eye opener as to what challenges I may encounter as a black female. It was truly a great read!" - Medical Student, Chicago, Illinois
"Dr. Vickie MD is a trailblazer in medicine and the book captures the depth of her perseverance and drive in a manner that is empowering for all." - Member, National Medical Association (N.M.A)
ABOUT THE AUTHOR
Dr. Mabry-Height is a graduate of Albert Einstein College of Medicine of Yeshiva University, and the University of Southern California (UCLA) School of Public Health. Her undergraduate training was at York College of the City University of New York and she is a Fellow of the American College of Physicians (FACP). She is a practicing physician in Internal Medicine in southern California and owner of Medical & Compensation Consultants, a healthcare consulting firm.
Learn more at: http://www.DrVickieMD.com. Order your copy from http://www.Amazon.com or BarnesAndNoble.com