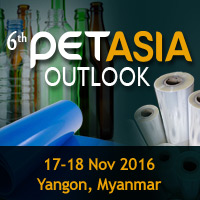 CMT's 6th PET Asia Outlook convenes in Yangon on 17-18 Nov for the first time to focus on the emerging new market as well as Cambodia, India, Thailand & Indonesia
Yangon, Myanmar (PRWEB) October 05, 2016
CMT's 6th PET Asia Outlook opens on Nov 17th-18th in Yangon with presentations on the growing Asian markets where according to Euromonitor "Some 42% of global PET demand came from Asia Pacific, with this regional position to intensify further with 47% of the world's consumer products in PET bottles set to be sold in Asia by 2019".
To provide a clearer picture of future demand, supply capacities, alternative feedstock and innovative applications, 6th PET Asia Outlook has lined up top industry experts to share insights.
Confirmed in the line up are senior representatives from:

Ajinomoto General Foods, Japan
PT Indo Tirta Abadi, Indonesia
Himalayan Industries, India
Drinkologist, Thailand
Clearpack Group
Husky injection moulding systems, Thailand
Bericap
Euromonitor International (Asia) Ltd
Loi Hein
Great Foundation
PC Wood Mackenzie
Kulara Water, Cambodia
The summit also brings market analysis of Myanmar's beverages and PET packaging sectors by Nielsen MMRD, Loi Hein Company and Great Foundation. Also in the agenda are insights on Myanmar's PET collection systems provided by Cesvi while Hon Chuan Myanmar shares how it is strengthening its foothold in Asia's last frontier.
For more information on the summit visit website or contact Ms Hafizah at +65 63469218