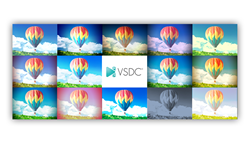 This release, focused on graphics and visual effects, was largely awaited by our current users
(PRWEB) September 28, 2016
Completely oriented towards the customer requirements of today, VSDC Free Video Editor stepped up with an upgraded array of visual effects. Instagram-like filters featuring most popular overlays enable to enhance the whole video image with one click and don't demand any special editing skills.
Along with that professional blending modes will become an obvious bonus for colorists and those who'd like to create their own visual filters or significantly customize the standard ones. With the help of this tool one can create a very popular ghost effect – when an object in a video has several contours of different colors and types; and even convert any 2D video fragment to 3D.
In response to ever-growing users' demand, the newest version introduces a comprehensive mask tool with 10+ mask types available - an indispensable option for video editing professionals. A mask is designed to add a filter or effect to only one region of a video thus enabling to make awesome video effects like a video inserted into a text or into a shape, as well as to blur or pixelize a face, make a watermark much less visible, etc.
"This release, focused on graphics and visual effects, was largely awaited by our current users. But we also hope to interest new customers just embarking on the NLE adventure, and for this reason we keep on localizing the editor to foreign languages. The newest version will also speak Portuguese and Japanese." – says Alexander Galkin, Project Manager.
Pricing and availability
VSDC Video Editor is available immediately for download to Windows 2000/2003/XP/Vista/7/8/10.
About
VSDC Video Editor is a video processing application intended for editing video files and creating videos of any complexity involving various visual and audio effects. The program offers rich functionality and yet has a simple and intuitive interface, allowing users to make video projects with a bare minimum of efforts. While most of editors use a predefined sequence of frames and scenes in a video, VSDC Video Editor can shuffle fragments and objects of the movie in an arbitrary order.
Links
Website: http://www.videosoftdev.com/
Product page: http://www.videosoftdev.com/free-video-editor