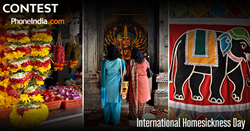 I love this service: clear connection, reasonable charges, pin-less dialing, regular promotional rates, can't ask for anything more! (Leslie Alfonso on Trustpilot.com)
Atlanta, Georgia (PRWEB) September 28, 2016
PhoneIndia.com, the platform dedicated to Indian expats worldwide, offers a prize of almost 700 minutes to call landlines and mobiles in India. The contest will be hosted on the PhoneIndia.com Facebook page on Homesickness Day, September 27, 2016. The prize of $10 Voice Credit for international calls never expires and can also be used to call other destinations in the world besides India. All Facebook fans and visitors who want to participate are invited to leave a comment on the PhoneIndia.com community page, and share what they miss about home on: https://www.facebook.com/PhoneIndia/
The $10 Voice Credit prize can be used to call India landlines and mobiles (700 minutes), as well as any destination in the world. It is the most time-saving and economical alternative to calling cards. Those who enter the race starting September 27 have 3 days to leave an honest and personal comment to the post on Homesickness Day, saying what they miss most about home. The winner will be singled out randomly using an online tool.
The International Homesickness Day is dedicated to expats worldwide, and a big majority of PhoneIndia.com customers are Indian expats living all over the world. The message of the campaign "Homesickness Day" includes the Facebook contest that wishes to be an optimistic and revelatory one: "It's OK to be homesick!" OK, because it is a natural side effect for someone who lives away from the root culture. Everyone in the diaspora feels the same for their origin culture, people and motherland. It is also OK, because what we love is what we miss and we get the chance to realize as expats.
Voice Credit on PhoneIndia.com is the most economical alternative to calling cards that offer international minutes.The winner of the current contest, starting September 27, will have the opportunity to call for free. The regular rate to call India with PhoneIndia.com is very low though: 1.44 ¢/minute.
Voice Credit on PhoneIndia.com allows one to make international calls in 3 different ways:

from KeepCalling app for iOS and Android devices.
using access numbers from any phone, which requires no 3G, 4G, WiFi (no Internet connection at all)
from one's laptop or PC to any phone in the world, using Web Call app, which is available in one's PhoneIndia.com account and requires no download.
On the global market, the lowest rate to call India is 0.8 ¢/minute, available with India 3000 monthly plan. Although a monthly subscription, the plan is very flexible. It can be canceled anytime with no penalties, and there is no contract involved. Plus, if 3000 minutes to call India are not enough, more minutes can be added by purchasing as much Voice Credit as needed. This is not the only plan available on PhoneIndia.com. India 500 and India 1100 are the other two.
Besides Voice Credit, Indian expats and travelers who use PhoneIndia.com can also benefit of other flexible services like the Mobile Recharge Service without any Contract. The Mobile Recharge tool facilitates international top ups of mobiles in other countries in less than 1 minute, at the lowest processing rate on the global market. Most people use it to send airtime to families and friends in their origin countries and thus support local communication or even offer them international calls.
There are no hidden fees on PhoneIndia.com and a free account comes with a set of features that cost nothing:

Speed Dial and PINless dialing makes the international calls resemble a local call in terms of dialing experience.
Thank You points are offered on every purchase and can be later converted into Voice Credit for free calls.
Lowest rates on the market for calls to both mobiles and landlines.
KeepCalling app is easy to install on any Android device, iPhone, iPad or iPod Touch.
24/7 human Customer Support for any explanation or question.
Online Help Center with Frequently Asked Questions.
Online 30 day call history and account transactions available non-stop.
Calling is also possible using access numbers that require no Internet connection.
More than 1 expat service available in one's account.
International Mobile Recharges are instant and easy.
The online shopping takes few seconds and is 100% secure due to the "Verified and Certified" label.
PayPal is accepted besides all major credit and debit cards.
Payment is accepted in any currency.
Transactions are 100% secure. The service is "Verified & Certified"
Anyone can earn credit while recommending the service to other fellow expats.
Whoever wants to participate in the Facebook contest starting September 27, and win $10 Voice Credit for international calls to India and other destinations is required to share what they miss about home. A simple honest comment to the video post enters the race on Facebook starting September 27, 2016, the first Homesickness Day in history. The Facebook contest ends on September 29 on PhoneIndia.com Facebook page dedicated to the Indian diaspora: https://www.facebook.com/PhoneIndia/
PhoneIndia.com is a website dedicated to the Indian diaspora worldwide. The website is a brand of KeepCalling, a global telecommunications company registered in 2002 in the USA. Presently, KeepCalling provides its services to hundreds of thousands of consumers and businesses, with a focus on customer satisfaction. KeepCalling has been listed by Inc 5000 as one of the fastest growing companies in the USA for 5 consecutive years. In 2015 the company registered a revenue increase of over 200% from 2011 to 2014.