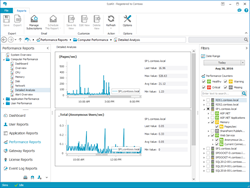 Our customers wanted a feature that would enable performance monitoring of their SharePoint farms. We stepped up to the challenge, and we are very proud of what we have delivered.
ZAGREB, CROATIA (PRWEB) September 29, 2016
Acceleratio Ltd., a company that specializes in enterprise software, released a new version of SysKit, the server monitoring tool designed for sysadmins. Coming six months after its last release, SysKit 2016 R2 introduces multiple new features. The SharePoint Performance Monitoring and Monitoring Templates features enhance SysKit's monitoring abilities in the server performance department. The Automated Server Documentation feature expands users' control over system inventory, and the Logical Server Groups feature enforces security for group actions.
SHAREPOINT PERFORMANCE MONITORING
SysKit 2016 R2 provides in-depth SharePoint performance monitoring and analysis. A comprehensive list containing all available performance metrics is generated when servers are added to monitoring templates. Multiple SharePoint performance metrics can be compared across multiple servers. Tracking SharePoint in real time and historically allows users to compare performance metrics against a set of server baselines, thus providing insights into potential issues. SharePoint performance monitoring best practices are available on the SysKit blog. In addition to SharePoint, this feature can be used to monitor performance metrics on all server roles, including for Citrix XenApp, domain controllers, and file servers.
MONITORING TEMPLATES
Monitoring specific server roles is closely related to the SharePoint performance monitoring feature. Different server roles, such as SQL, IIS, and WFE, require monitoring for different performance metrics and services. SysKit comes with a predefined set of templates, each of which have been designed for a specific server role, and it tracks specific sets of performance metrics and services that are essential to those roles. It is possible to create custom templates, assign them to servers or logical server groups, and set custom thresholds for each added performance metric.
AUTOMATED SERVER DOCUMENTATION
With SysKit 2016 R2, it is possible to generate detailed server documentation of an entire system using PowerShell scripts. This type of server documentation enables system admins to provide support and maintain a server environment. All documentation reports can be compared over different servers and periods to audit any changes. SysKit allows users to create PowerShell scripts and generate reports on any data available through PowerShell, therefore automating repetitive tasks. Reports can be exported to Excel or PDF to create presentable server documentation.
LOGICAL SERVER GROUPS
SysKit 2016 R2 provides the ability to group servers into multiple logical server units, simultaneously splitting the system into smaller fractions for easier monitoring. With this feature, it is possible to assign each server to a custom group and perform automated tasks or generate reports only for the targeted logical server groups. That enforces security for group actions, making overall system administration less risky.
SysKit is priced per server, and there are three editions available. To preview this tool and all its new features, download the free trial, which is fully functional for 30 days.
Acceleratio Ltd. is a software development company founded in 2009 and based in Zagreb, Croatia. The company, which is known for developing popular tools such as SPDocKit, SysKit, and CloudKit 365, creates high-quality enterprise software solutions for SharePoint, Office 365, Windows Servers, Remote Desktop Services, and Citrix admins and consultants around the world.