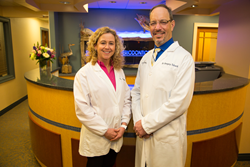 Westerly, RI (PRWEB) September 27, 2016
Patients with gum recession in Westerly, RI, can now turn to Drs. Gregory A. Toback and Marianne Urbanski with Shoreline Periodontics with or without a referral for treatment using the Chao Pinhole® Surgical Technique. Drs. Toback and Urbanski understand that gum recession is a serious condition with sometimes severe consequences which is why they are celebrating Self Improvement Month by educating patients about gum recession, its symptoms and why they should receive treatment for the condition as soon as possible.
Gum recession is a common condition that affects millions of Americans every year. It is caused when the gums pull away from the gum line. Aggressive brushing and flossing, genetics, abnormal positioning of the teeth, bruxism, periodontal disease and trauma can result in receding gums. When this occurs, it can cause sensitive teeth and an elongated appearance of the teeth, which are both common first signs that patients notice. If left untreated, patients may also notice that their teeth become loose or begin to fall out.
Patients with gum recession in Westerly, RI, do not have to endure this condition without help. The Chao Pinhole® Surgical Technique is a treatment option for patients that do not want to undergo the intensity of gum grafting surgery. This treatment takes little time, and patients see immediate results. It is also a minimally invasive technique, so patients feel little discomfort, and experience minimal bleeding or swelling. During the procedure Drs. Toback and Urbanski use specialized tools to position the gums back into their proper place over the roots using only a pinhole incision. They then use collagen strips to hold the gums in place during the healing process.
Gum recession is a serious condition that should not be ignored. Patients in Westerly, RI, who have gum recession are invited to contact Shoreline Periodontics at 401-622-4661 immediately to begin treatment.
About the Practice
Shoreline Periodontics is a periodontal practice offering personalized dental care for patients since 1998 and is located in New London, CT and Westerly, RI. Leading periodontist, Dr. Gregory A. Toback, received his B.A. from St. John's University and his Doctorate of Dental Medicine from the University of Connecticut. He also received advanced training in periodontics and dental implants at the University of Texas Health Science Center in San Antonio. Dr. Toback focuses on minimally invasive surgeries, offering the LANAP® protocol and belongs to a small group of dental professionals currently providing the Chao Pinhole Surgical Technique™ for treatment of gum recession. Dr. Marianne Urbanski has been voted one of Connecticut's top dentists for more than seven years by Connecticut Magazine. Dr. Urbanski graduated cum laude from the College of Holy Cross in Worcester, Massachusetts where she earned a Bachelors' degree in Biology. She also received her Doctor of Dental Medicine degree and her Masters' of Dental Science degree from the University of Connecticut Dental School. Dr. Urbanski prides herself on offering caring, professional care to each patient. To learn more about Shoreline Periodontics and their dental services visit their website at http://www.shorelineperio.com or call (860) 333-1531 for the New London, CT location, or (401) 622-4661 for the Westerly, RI office.