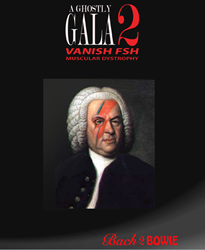 Boston, MA (PRWEB) September 27, 2016
Join comedian Wendy Liebman, and other celebrities, at the Second Annual Ghostly Gala in Los Angeles to benefit the FSH Society and raise funds for muscular dystrophy research. The event is open to the public and all net proceeds benefit the FSH Society, an award-winning non-profit and global leader in the quest to treat and cure Facioscapulohumeral Muscular Dystrophy (FSHD).
The Halloween Gala will feature dinner, a live auction, a costume contest and other entertainments. The popular Dean Mora Band will provide live music in the theme, "From Bach to Bowie." Guests are encouraged to dress in costumes inspired by their musical icons, but cocktail and festive gala attire is welcome as well.
The Second Annual Ghostly Gala will begin at 5:00 p.m. at the world-famous Cicada Club, in the iconic art deco Oviatt Building, 617 South Olive Street, Los Angeles, CA, 90014. A live stream of the Gala will also be made available.
A special thank you to event sponsor, aTyr Pharma, a biotherapeutics company engaged in the discovery and development of Physiocrine-based therapeutics to address severe rare diseases.
FSHD, one of the most prevalent types of muscular dystrophy, is a degenerative muscle disease that causes progressive weakness, usually starting with the face, shoulder, arms, legs and abdomen, but can spread to almost any skeletal muscle. FSHD affects approximately one million people yet, currently, there is no treatment or cure.
To make a donation online to the FSH Society in support of the Ghostly Gala, please click here.
What: Second Annual Ghostly Gala to Benefit Muscular Dystrophy Research
Where: Cicada Club, 617 S Olive St, Los Angeles, CA, 90014
When: Sunday, October 30, 2016 from 5:00 – 10:00 p.m. PT
Who: The FSH Society joined by comedian Wendy Liebman
Tickets: Register here or contact Robyn O'Leary at 781-301-6042 or robyn(dot)oleary(at)fshsociety(dot)org to reserve a ticket
About: The FSH Society is a world leader in combating muscular dystrophy. The non-profit has provided millions of dollars in seed grants to pioneering research worldwide, creating an international collaborative network of patients and researchers. The FSH Society seeks to serve as a source of information and support for all patients and families with FSHD; act as a driving force in the development of research directed towards treatments and ultimately a cure; and bring support to patients and research for FSHD through effective engagement of governmental and private sector organizations and entities. For eight consecutive years, the Society has received the Charity Navigator's four-star rating, the highest distinction held by less than two percent of non-profit organizations in the country. The FSH Society offers a community of support, news and information for FSHD patients and families through its website at http://www.fshsociety.org. For more information about FSHD, please contact the Society at 781-301-6649.