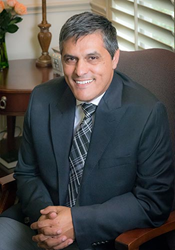 Allen, TX (PRWEB) September 27, 2016
Dr. Marco A. Cueva recently attended a continuing education (CE) course dedicated to enhancing patient care and practice growth called, Catalyst, by Progressive Dental. Dr. Cueva, a respected periodontist in Allen, TX, offers a variety of dental treatments including single dental implants and the All-on-4® dental implant technique. Dr. Cueva is dedicated to offering comfortable and effective care from the first examination to the implementation of a customized plan, and through the recovery process.
When visiting a periodontist in Allen, TX, to learn about their tooth replacement options, individuals want to feel that their unique needs are being addressed, and that they are receiving services that are personalized to their situations. This includes making sure that insurance coverage is maximized and payment options are discussed, as well as the benefits of the care plan developed between Dr. Cueva and the patient. He regularly attends training that allows him to not only adopt new techniques, technology and procedures, but courses such as Catalyst to understand how best to connect with each patient to determine their specific needs.
Dr. Cueva is Board Certified by the American Board of Periodontology, and is a leading specialist in the placement of dental implants. He is proficient in communicating treatment goals with his patients in a way that is easily understood, so they know what to expect throughout the process. On the professional level, he shares his knowledge through publications in the field and speaking engagements at state, national and international organizations. He is also an Assistant Professor at Texas A&M University Health Science Center – Baylor College of Dentistry.
More information about dental implants and the treatment methods offered at Dr. Cueva's practice is available on his website at http://www.perioexcellence.com. People in Allen, TX, interested in the benefits of permanent tooth replacement options can schedule an appointment for an examination and consultation with Dr. Cueva by calling (972) 704-1101.
About the Doctor
Periodontic Excellence is a periodontal practice offering personalized dental care for patients in Allen, TX. Dr. Marco Cueva is a Board Certified Periodontist and has extensive education in periodontology and dental implantology. He attended the Federal University of Parana where he received his Doctor of Dental Surgery Degree, and completed three additional years of training at Camillo Castelo Branco University, before training at Baylor College of Dentistry. Dr. Cueva also earned his Masters of Science Degree in Oral Biology with a certification in Periodontics from Texas A&M University Health Science Center- Baylor College of Dentistry. Dr. Cueva offers a variety of services, specializing in dental implants, All-on-4® and the minimally invasive Chao Pinhole® Surgical Technique for treating receding gums. To learn more about the services offered at Periodontic Excellence, please visit the website at http://www.perioexcellence.com or call (972) 704-1101 to schedule an appointment.