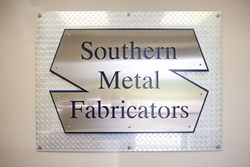 "I've always admired [Strasburg's] technical expertise. As Southern Metal Fabricators begins to focus more on the custom fabrication of bulk material handling equipment, having Al as part of our team feels like a natural fit."
Albertville, Ala. (PRWEB) September 29, 2016
Custom metal fabricator Southern Metal Fabricators, Inc. has appointed Al Strasburg, an expert in material handling equipment and field installations, as a Sales Engineer.
Strasburg has worked with material handling equipment for 35 years, having started his career with DW Industries in 1981 as a detailer. Following that, he did field work estimation and ran field crews for Confab, a division of Huff International, and his own company, Bulk Systems, which he co-founded in 1987. In 1990, Strasburg returned to shop engineering and sales work, signing on with Industrial Material Handling for six years before starting Fabtech with Dan Browning in 1996.
After 20 years of co-running his own material handling engineering and fabrication company, Strasburg saw the potential in rising Albertville, Alabama-based custom metal fabricator Southern Metal Fabricators and decided to join its sales team at the request of General Manager Charles Bailey.
"We're delighted Al has joined us," said Bailey. "We've worked together for nearly twenty-five years and I've always admired his technical expertise. As Southern Metal Fabricators begins to focus more on the custom fabrication of bulk material handling equipment, having Al as part of our team feels like a natural fit."
About Southern Metal Fabricators
Established in 1991 as a two-man shop serving the maintenance and light fabrication needs of local industry, Southern Metal Fabricators, Inc. has become an aggressively growing custom metal fabricator located in Albertville, Ala. Vision driven, Southern Metal Fabricators continually seeks qualified employees, invests in increased capabilities, and actively pursues broader markets. Its goal is to meet or exceed its clients' requirements when it comes to quality, budget, and delivery. To learn more about Southern Metal Fabricators, visit http://www.southernmetalfab.com.