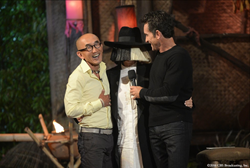 Sia's gift will provide care for animals victimized by the illegal wildlife trade.
New York, NY (PRWEB) September 28, 2016
The chart-topping singer announced she was going to give Tai the money to donate during the Season Finale Reunion episode, and thanked him for, "showing America how to be kind to animals." An animal rights activist herself, Sia was moved by Tai's respect for all living things.
Tai Trang, the fan favorite of the season, chose to donate $40,000 to Wildlife Alliance after he and two other contestants won a tour to Phnom Tamao Wildlife Rescue Center as a prize on the show. During the episode, Wildlife Alliance's Wildlife Programs Director, Nick Marx, introduced the contestants to Lucky the elephant, and explained that the animals at the center were all rescued from the illegal wildlife trade. Wildlife trafficking is estimated to be worth $20 billion annually, making it one of the most lucrative black market trades in the world. While Tai was moved by the stories of the rescued animals, no one could have foreseen that his compassion would result in Sia donating to help save countless animals from the grips of poachers.
Wildlife Alliance (WA) has been working in Cambodia since 2000, providing direct protection to forests and wildlife. WA's mission is to combat deforestation, wildlife extinction, climate change, and poverty by partnering with local communities and governments. To date, Wildlife Alliance has preserved more than 2 million acres of forest, overturned 36 industrial land concessions, rescued over 62,000 animals from the illegal wildlife trade and delivered environmental education to more than 200,000 students, teachers and community members.
About Wildlife Alliance:
Wildlife Alliance was founded by Suwanna Gauntlett to offer direct protection to forests and wildlife through cutting edge conservation programs. The organization provides technical assistance and critical thinking to governments and strives for stakeholder consensus in achieving solutions to multiple environmental threats, wildlife care, including animal trafficking, economic land concessions for agro-industrial plantations and mining, and community development.