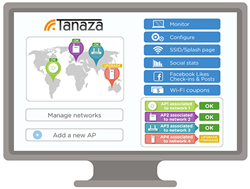 Milan, Italy (PRWEB) September 28, 2016
2016 is the year of growth for the Italian start-up Tanaza, continuing its rapid international expansion with 150 planned Wi-Fi deployments in Q4 - 2016.
+135% USERS WORLDWIDE IN THE LAST YEAR
Tanaza, the cloud-based Wi-Fi management software provider, announced today that their Wi-Fi networks have now been used by 25 million people across the globe for Wi-Fi login, resulting in a 235% increase of users compared to the previous year.
DOUBLED ITS CUSTOMER BASE IN 10 MONTHS
This is not the only milestone achieved by Tanaza in 2016. Tanaza is continuing its global expansion, by increasing the number of reseller partners and distributors worldwide.
Tanaza has also doubled its customer base in just 10 months, thanks to its best-in-class partnership program that provides unique advantages to its distributors and reseller partners.
TALENT ACQUISITION AND RETENTION
Tanaza has also established a thriving work environment with a team of passionate professionals, where everyone is encouraged to contribute to the overall success of the organization. This has allowed the company to recruit and retain top talent.
Tanaza also signed the EU diversity charter and implemented a policy of inclusion and gender parity. Tanaza is now run by a dedicated team of 9 different nationalities; more than 50 % of the employees that have joined the company within last year are talented female workers.
FUTURE MILESTONES
In Q4 2016, Tanaza is going to partner with 60+ more companies globally, with a strong focus on promising markets like Argentina, Mexico, Brazil, Spain, and Portugal. Tanaza is set to enter several new countries in 2017, while also expanding its presence in Europe and LATAM countries.
Tanaza is going to participate to Wi-Fi Now Awards in the "Wi-Fi Innovation" category. Wi-Fi Now (October 25-27, London - UK) is the most comprehensive Wi-Fi Expo and Conference in Europe and has been endorsed by the Wi-Fi Alliance.
Future milestones for the company in 2017 include: expanding the list of supported access points and gateways to support more than 100 devices, and improving the software UX/UI. Tanaza recently released its brand-new corporate video and is currently working on a new software version, which beta release is expected in 2017.