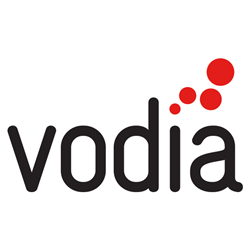 Vodia PBX makes it easy to deploy hundreds of customers on a single Docker instance.
Boston, Massachusetts, USA (PRWEB) September 29, 2016
This week Vodia Networks packaged the Vodia PBX for deployment on Docker, the server-side platform for distributed applications. IT providers can now deploy telephone system with a single command, dramatically reducing installation time.
Unlike virtual machine solutions where each process has its own virtual operating system, Docker containers run as isolated server processes but share the same operating system. Installing Vodia with Docker is dramatically faster and uses fewer resources than ever before. Docker containers are portable to Mac, Windows, and Linux servers, and to cloud services such as Amazon EC2. Docker supports management features like failover to standby servers.
Sold under a private label, Vodia has long been IT providers' first choice for its ease of installation and administration. Vodia pioneered multitenant solutions a decade ago, allowing several PBX customers to be hosted on a single Vodia server installation – just what Docker is doing now for generic applications. Similar to HTTP virtual hosts, Vodia PBX makes it easy to deploy hundreds of customers on a single Docker instance.
Vodia CEO Christian Stredicke said, "Vodia was created from scratch a decade ago for multitenant environments. Running it now on Docker is a dream come true. We have worked hard to make it this easy to install. Just click and go."
Along with its new hosted, WebRTC telephone system, Vodia is now poised to expand its position in the hosted PBX space. Users can choose from a very wide range of devices, making business voice communication possible from virtually any place in the world. The dramatically reduced cost to get started and the low OPEX make it an attractive for partners that are migrating from both for premises-based deployments and the hosted space.
About Vodia
For more than a decade, Vodia has built software for the hosted PBX industry as a preferred reseller solution for cloud telephony services for small to medium sized businesses. Worldwide customers in education, hospitality, retail, manufacturing, and other industries can make and control calls from all major VoIP phones, tablets, smart phones, and WebRTC compliant Web browsers. For more, see https://vodia.com.
Contact
Johnny Monsarrat
Vodia Networks
214 Cambridge Street, Suite 300
Boston, MA 02114
(617) 446-1399
jm(at)vodia(dot)com
END
###