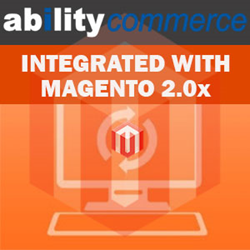 "...take advantage of our powerful back-end order management platform. This will overcome operational inefficiencies and drive multichannel retail sales, fulfillment and customer experience", said Diane Buzzeo, CEO, Ability Commerce
Delray Beach, Florida (PRWEB) October 04, 2016
Ability Commerce, a recognized market leader in direct commerce retail technology and services for the mid-market, now delivers real-time integration between its Comprehensive Commerce Suite (CCS) enterprise order management system (OMS) with the new Magento 2.x ecommerce product lines.
Ability's CCS OMS, certified to the latest PA-DSS payment security standard, version 3.1, provides retailers using Magento with a fully integrated, powerful, order management system built specifically for growing direct commerce mid-market retailers.
"There are many ecommerce Magento sites. With this integration, retailers on Magento can now take advantage of our powerful back-end order management platform. This will overcome operational inefficiencies and drive multichannel retail sales, fulfillment and customer experience," said Diane Buzzeo, CEO, Ability Commerce.
Ability Commerce:
For over 20 years, Ability Commerce has empowered ecommerce and catalog retailers to achieve success by providing them with scalable, flexible and affordable solutions to better manage inventory, orders, fulfillment and warehouse operations, as well as provide online and catalog customers with an exceptional user experience. In addition to Ability's cutting edge direct commerce enterprise platforms, our services including merchandising & marketing, technical & business and contact center, helping retailers sell more products to more customers through multiple sales channels. Ability Commerce is recognized as a leader in the industry and recently named to the Internet Retailer's 2016 Leading Vendors of the Top 1,000 E-Retail Clients. The Ability OMS is certified as compliant under PA-DSS v3.1 and is FCBCO Validated. Our solutions enable mid-market companies to acquire, convert and retain customers more efficiently. For more information, visit http://www.abilitycommerce.com or call 561.330.3151.
For additional information, contact:
Ability Commerce
1300 Park of Commerce Blvd., Suite 200
Delray Beach, FL 33445
561.330.3151