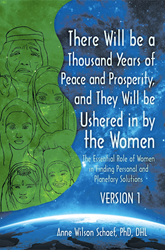 This book is about adding our wisdom and our perspective to the future of this planet.
(PRWEB) September 28, 2016
In 2001, after many years of doing all the major talk shows, radio interviews, speaking engagements and other "celebrity" events around the world, Dr. Anne Wilson Schaef decided that it was time to pull back and reconnect with what was most important in her life and refocus her life.
She had been called one of the greatest thinkers of her time, and published many books in several different languages. These included "When Society Becomes an Addict," a New York Times bestseller that had been nominated for best political book of the year, the bestselling "Women's Reality," and the bestselling "Meditations for Women Who Do Too Much" that was translated into many languages and sold millions. However, Schaef felt clearly that she needed to go even further and deeper with her writing and healing work and eagerly left the spotlight to delve into her spirituality and further research.
After this "time out," Schaef now re-emerges with her new book "There Will Be A Thousand Years of Peace and Prosperity and They Will be Ushered in by the Women." This book builds on her former bestsellers, brings us all up to date on the women's movement and offers hope for the entire planet.
Schaef explores the dysfunctional systems in politics, religion, science, interpersonal relationships and other areas that are dominant in the culture today and that are destructive to humans and all life on the planet.
She looks at the potentially positive impact that women can and must harness to step forward for further development of the human race and for the planet as a whole. She writes that to generate alternatives and better ways of functioning as women, minorities, native people and those in recovery can provide unique perspectives.
"Our culture has valued closed systems and tries to generate them in all walks of life," Schaef said. "Women are better at and more comfortable with open systems which occur naturally in nature. This skill and others may be very essential in the changes that need to come."
Presented as a flipbook – two versions in one book – "There Will be a Thousand Years of Peace and Prosperity, and They Will be Ushered in by the Women," provides a broad spiritual perspective of the world from both a non-dominant and dominant viewpoint. In version one, Schaef shares her viewpoint as a Cherokee, Irish woman, and the second version looks at the same topics with the perspective of the current dominant culture.
Both versions delve into the history of feminism and the "symptoms" of the culture, addressing issues relevant today and providing solutions for progress. She encourages non-dominant people of all ages and cultures to step up and share their unique gifts in order to facilitate change.
"This book is about adding our wisdom and our perspective to the future of this planet," Schaef said. "It is not just doing what will fit in, keep us safe, or what others want."
Readers are encouraged to read both versions to experience how they feel.
For more information, visit http://www.annewilsonschaef.com.
"There Will Be a Thousand Years of Peace and Prosperity and They Will Be Ushered in By The Women: The Essential Role of Women in Finding Personal and Planetary Solutions"
By Anne Wilson Schaef, PhD, DHL
ISBN: 978-1491795286
Available in softcover and e-book
Available on Amazon, Barnes & Noble and iUniverse
About the author
Anne Wilson Schaef, PhD, DHL, is an internationally known speaker, consultant, seminar leader and author. She is the president of Wilson Schaef Associates and a New York Times bestselling author. This is Schaef's 17th published book. She lives in Boulder, Montana.