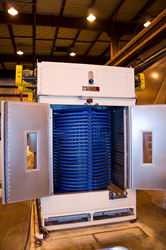 For this project we needed to meet our customer's production requirements within the facility space available which required a unique spiral conveyor design to minimize the footprint
East Troy, WI (PRWEB) September 28, 2016
Wisconsin Oven Corporation announced the shipment of a custom electrically heated spiral conveyor oven with cool down. The conveyor oven will be used to cure adhesive applied to exterior automotive mirrors. The conveyor needed to be designed to the customer's specific dimensions to ensure all mirrors were cured evenly. To save on floor space and maximize the number of mirrors processed per cycle an innovative spiral conveyor design was utilized in both the heat up and cool down chambers.
The maximum operating temperature of the spiral conveyor oven is 200°C. The conveyor oven, when preheated, has sufficient capability to heat 840 pounds of glass and 1,200 pounds of aluminum trays per hour at a normal operating temperature of 160°C. The oven chamber and cool down chamber each have dimensions of 6'4" W x 6'4" L x 9'2" H and utilize four (4) 5,000 CFM blowers for a total of 20,000 CFM. The customer required temperature uniformity of ±5°C at 150°C for a minimum of 45 minutes.
Unique features of the conveyor oven include:

Spiral belt conveyor design
Filtered ambient air intake for cool down chamber
Parts are transferred to the production line by the exit conveyor
PLC controls with Ethernet communications that notify the operator of various equipment alarms
Over temperature protection
Six (6) monitoring thermocouples mounted in the oven heating chamber
The custom conveyor oven was factory tested and adjusted prior to shipment to help reduce installation and start-up times. An extensive Quality Assurance check list was completed to ensure the equipment met all Wisconsin Oven quality standards.
About Wisconsin Oven
Wisconsin Oven Corporation has been designing, engineering, and manufacturing industrial ovens and other heating equipment since 1973. Their custom and standard industrial ovens are used for a multitude of applications including heat treating, finishing, drying, and curing. Many of the industries they serve require specific temperature uniformity and equipment performance documentation. Their experienced design team is able to meet even the most stringent standards for their customers' equipment. Wisconsin Oven realizes that the success of the company depends on their Championship team of employees, which is why they have developed a company culture that recognizes and rewards employees. The goal at Wisconsin Oven is to outperform competition and provide customers with outstanding products and service.
Wisconsin Oven is owned by Thermal Product Solutions ("TPS"), a leading American manufacturer of custom industrial ovens used for heat treating, finishing, drying, curing, manufacturing automation and process control. TPS is a global leader in thermal processing products and test solutions with brands including Baker Furnace, Blue M, Gruenberg, Lindberg/MPH, Lunaire, Tenney, and Wisconsin Oven. For more information on equipment solutions from TPS visit the website at http://www.thermalproductsolutions.com. #09363AY