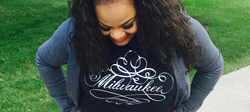 The domino effect of these tragedies is unimaginable. From four-year-old children to grandparents, these shootings and killings are becoming an epidemic, leaving no one exempt.
Los Angeles, CA (PRWEB) September 28, 2016
MzKim Productions Owner and Operation Save Milwaukee Founder, Kimberley T. Zulkowski, has combined her passionate quest for 53206 neighborhood reform with filmmaking as a way to garner mass exposure for its inner-city epidemic. She has made #OperationSaveMilwaukee her life mission, as 153 homicides were at an all time high back in 2015 and this fiscal year stands as the deadliest in more than two decades. 53206 inhabitants struggle with safety walking outside their front doors, let alone sitting comfortably in their homes due to daily shootouts. The blanketed poverty surrounding the area makes resources limited and putting food on the table, a roof over their heads and turning on electricity an everyday challenging card. Burying loved ones and friends has become familiar.
A former 53206 resident in her youth, Zulkowski has personally buried six family members and friends over the past few months, including her foster daughter and close cousins. Otherwise known as the "Guardian Angel," she has spent over 150 thousand dollars in community burials, as bodies are stockpiling and so are the demands. Helping families of homicide victims who cannot afford proper burials, Zulkowski has stepped in to customize clothing, caskets, beauty, grooming, and the sentimental details of each of their passing. "Milwaukee buried a five-year-old girl named Laylah Peterson who was sitting on her grandfather's lap, showing him her report card, and killed because the wrong house was shot up. 12 bullets fired and a stray bullet ended up through this baby's head," said Zulkowski. Every Saturday on 6th and Ring, #OperationSaveMilwaukee takes to the streets of 53206. They pull kids outside to play, pass out snacks, deliver blessing bags, BBQ, pick up trash, toss hoops, mow lawns, plant flowers and promote unity while rallying to discuss how to improve the everyday dangerous and dark conditions in this neighborhood. Zulkowski's prayer is "to remind this community of the life still living in it and the power the people hold to create change."
As a filmmaker in her directorial debut, Zulkowski knows she can make a difference on the big screen, in addition to carrying out Operation Save Milwaukee's project of the heart. Now filming on location, this "53206 Milwaukee" movie highlights the trials and tribulations of those living in this zip code. Produced by Steven Curtis and Alan Zulkowski and co-produced by Joshua Nickel, "53206 Milwaukee's" original music was written by Kimberley T. and Alan Zulkowski, Tory Lowe, Terrell Lewis, and Erick Perkins. After weeks of vigorous, local talent auditions, final casting was announced to include Imani Brown ("Robbie"), Dinah Williams ("Keasha"), Carnelious Gill ("JR"), Erick Perkins ("Oscar"), Terrell Lewis ("Jerome"), and Paulos Hughes ("Hattie"). Illustrating a day in the life of inner-city youth plagued by gang activity, drugs, violence, murder, physical and sexual abuse, incest, neglect, and poverty, "53206 Milwaukee" showcases real-life issues in the community. Portraying the strength, courage and willpower needed to overcome surroundings without becoming submerged in what has failed, viewers will not only see these slums as perils of darkness but also see the light donning upon the unsung heroes who make a difference to stop the cycle.
Zulkowski believes every effort counts to attract immediate attention. "The domino effect of these tragedies is unimaginable. No mother should have to bury their child. No family should have to suffer the loss of a loved one due to violence. We worry every day. We are afraid every day. From four-year-old children to grandparents, these shootings and killings are becoming an epidemic, leaving no one exempt," she said. From double dutch jump roping out in front of boarded up homes and opening her arms to gang members to now making a movie that bleeds truth, 53206's situation is beyond critical and desperate for municipal law enforcement, city officials, community activists, and proud Milwaukee Brewers to add fuel to this fight. Right now #OperationSaveMilwaukee and this movie in the making are the only chance this zip code has for repair.