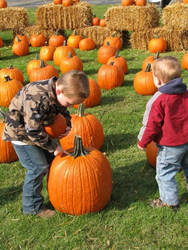 From ghost stories and hauntings, to fall festivals and corn mazes, there is something for everyone in Franklin County!
(PRWEB) September 28, 2016
From ghost stories and hauntings, to fall festivals and corn mazes, there is something for everyone in Franklin County!
For visitors looking to enjoy a day out and a traditional street fair, check out Chambersburg AppleFest on October 15 in the downtown area. From 9 a.m. to 4 p.m., enjoy art, food, crafts, music, kid's activities and rides! With a focus on apples, an important and delicious product of Franklin County, visitors can find unique items and delicious treats. This annual event has become a tradition for Franklin County locals and natives, many whom travel back to celebrate this fun fall event.
In the mood for a homemade apple dumpling? The Tayamentasachta Apple Festival is scheduled this year for October 8 at the Tayamentasachta Environmental Center in Greencastle. Famous at the festival are the apple dumplings, which are made each year by volunteers with the Environmental Education Advisory Committee, who sponsors the festival. The sale of the dumplings supports environmental education programming at the center. The event also includes other apple items for sale including homemade apple butter and barbecue chicken. The event also includes pumpkin decorating, scarecrow stuffing, face painting and live music.
In Waynesboro, Market Day takes over the downtown this fall. On Saturday, October 1 from 9 a.m. to 4 p.m, the streets along Main Street will be filled with decorated scarecrows during the annual Scarecrow Contest and visitors can enjoy all-day entertainment, dancing demonstrations, sidewalk sales, children's activities and dozens of craft, specialty and food vendors. Visitors can taste test local chili at Mad Anthony's Chili Cookoff and vote for their favorites!
Enjoy pumpkin chuckin' at The Renfrew Pumpkin Festival on October 15 from 11am to 4pm using a large scale trebuchet! The event, at Renfrew Museum in Waynesboro, also includes pumpkin carving, hayrides, live music, games and activities for children and food for sale.
Enjoy the beautiful oranges, greens and yellow colors of fall at the 16th Annual Great Outdoors Festival on October 22 and October 23 at Whitetail Ski Resort. From 10am to 5pm, enjoy hay rides, chairlift rides, a climbing wall, activities for children, catch and release fishing, 5K trail run, ski board swamp and all the festival favorites like food and music!
Franklin County is also host to two Oktoberfest's! In Chambersburg, Oktoberfest will be held October 1 from noon to 5pm in the New Texas Lunch parking lot in Chambersburg. The event will have beer hall style seating with tables for 200 under a tent with other activities that day including a 5K memorial run, fun run and a duck derby.
Renfrew Museum is also looking to start a tradition with their own Oktoberfest on October 1 at the American Legion Post 15 in Waynesboro from 4 pm to 10 pm. This traditional German event will celebrate the German roots of the original family that worked the land and all attendees must be 21 years and older. Admission to this event includes a traditional German food buffet and a Daniel Royer craft beer brewed specially for this event. There will also be live music and an auction.
Looking for some old-fashioned family fun this fall? From winding corn mazes, delightful pumpkins and delicious apple cider, local farms open their pumpkin patches and fields for fall fun!
Stoner's Dairy Farm in Mercersburg features a 5 acre corn maze, play area, petting zoo, play area, hayride and delicious treats for sale. They will be open Saturdays 10am to 10pm and on Sundays, open noon to 5pm. Need a pumpkin for Halloween? No problem. Stoner's has mums, pumpkins and other fall decorative items available for purchase at their beautiful farm. For the adventurous one, try the corn cannon and shoot corn cobs to hit targets to get your name on the Wall of Fame! From cars to scarecrows, try your luck at hitting your targets in a nearby field on the property.
Have you ever shot a pumpkin cannon? Country Creek Produce Farm in Chambersburg has made their own and are ready to let you give it a go. The 10 acre farm also has hayrides, pumpkin picking, slides, games, a barrel train and more. The corn maze and pumpkin patch is open 10am to 5 p.m. Monday through Thursday and open 10 a.m. to dusk on Fridays and Saturdays. The farm is also open three Sundays this year.
Have a little one with you? Looking to bring a large group of children? Reynolds Pumpkin Farm specializes in letting larger groups of children explore and experience the fun fall season at their farm in Waynesboro. The farm runs Tuesday through Friday from 9:30 a.m. to 5:30 p.m. and is open 10am to 6 p.m. on Saturday. On Sunday, the farm is open from noon to 6 p.m. The farm, which sells pumpkins, mums, decorations, honey and jams, is open for school tours and includes live animals.
The farm originally started off as a working dairy farm in 1982 but they also grew vegetables such as sweet corn, peppers and tomatoes. In 1997, the owners sold the cows and started growing pumpkins, gourds and fall decorations. The farm caters to children, with many activities for them including corn and grass mazes, hayrides, areas to feed animals, slides and more, including gem mining!
What is October without spooky events? Franklin County is home to some reportedly haunted locations including The Old Jail in Chambersburg. Step back into the 50's as you try and solve the case of the empty cell at the Old Jail on October 7 and October 8. Meet suspects, question them and try to figure out whodunit by the end of the tour!
Come enjoy all Franklin County has to offer this fall with fun for everyone!
The Franklin County Visitors Bureau invites all to explore Franklin County PA and enjoy the history, arts, recreation, natural beauty, fresh foods and warm hospitality of communities like Chambersburg, Greencastle, Mercersburg, Shippensburg, and Waynesboro. Franklin County PA is located just north of the Mason Dixon Line and an easy drive to Washington DC, Philadelphia, and Pittsburgh. Discover more….plan your visit at ExploreFranklinCountyPA.com , by contacting 866.646.806