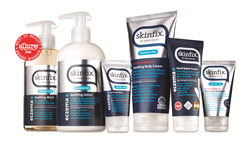 When it comes to healing tough skin conditions, it is not enough to be natural – clinical efficacy is so critical. That is why we invest in proving that our formulas do what they say they are going to do
(PRWEB) September 29, 2016
Skinfix Inc., the expert in healthy skin, is expanding its natural and clinically proven eczema collection with two new extra strength skincare adult products and a new eczema treatment for kids. Skinfix Extra Strength Sheer Face Ointment, Skinfix Extra Strength Soothing Body Cream and Skinfix Kids Eczema Balm are now available in the first aid aisle at Target, Target.com and at CVS Pharmacy stores. These new eczema skincare products are free of steroids, hydrocortisone, synthetic fragrance, sulfates, parabens or phthalates and are recipients of the National Eczema Association Seal of Acceptance.
October is Eczema Awareness Month and for the 31 million US eczema sufferers stopping the itch/scratch cycle is an uphill battle for adults and children. This daily struggle can be seen in HBO's "The Night Of" new crime series where the main character suffers from eczema and goes to great lengths to soothe his itchy skin. Oat and sweet almond oil are two of Mother Nature's clinically proven ingredients to soothe that itch. Skinfix's colorless, dermatologist and ophthalmologist tested Extra Strength Sheer Face Ointment uses 5% colloidal oatmeal, sweet almond and jojoba emollient oils to provide steroid free relief to the face, around the mouth and the delicate eye area. This ointment is safe to use for those who wear contact lenses. Skinfix's Extra Strength Soothing Body Cream is 98% natural and uses a unique triple oat complex including colloidal oatmeal, oat proteins and oils as well as nourishing moringa oil to halt the cycle of itching and scratching. For children ages 2-12, Skinfix introduces Kids Eczema Balm a natural targeted therapy to help heal eczema flare-ups. Using nature's pharmacy, this 0% water balm goes on quickly and works immediately to soothe dry, itchy patches anywhere on the body and can be used as an alternative to steroids and hydrocortisone or in conjunction with a prescribed treatment.
"When it comes to healing tough skin conditions, it is not enough to be natural – clinical efficacy is so critical. That is why we invest in proving that our formulas do what they say they are going to do," says Amy Gordinier-Regan, CEO of Skinfix. "Managing the physical and emotional discomfort of eczema is a daily struggle and we know that our new extra strength and kids products are a great addition to our eczema collection and will make a difference in people's lives."
"The outer skin layer is like brick wall, with skin cells being the bricks, and natural lipids being the mortar. Cold weather, improper cleansers, and exposure to irritants and allergens can all strip the skin of its lipids, weakening the barrier," says Dr. Joshua Zeichner, MD, NYC City Dermatologist. "An impaired barrier causes the skin to lose hydration and triggers inflammation. Clinically, the skin becomes dry, red, and scaly and patients commonly experience itch. The key to treatment is to improve hydration, reduce inflammation and calm the skin, and help repair the skin barrier."
A steroid holiday is an important part of managing eczema. Interestingly, 70% of eczema sufferers are concerned with using steroids and hydrocortisone on their skin and 24% do not comply with doctor's orders, which can lead to more skin issues*. Steroids are a safe and effective way at treating severe eczema flare-ups but the key is to not overuse them and incorporate a natural and clinically proven eczema skincare regimen to maintain skin barrier health.
Skinfix has been trusted for over 100 years. The pharmacist that compounded the original formula in Yorkshire, England relied on nature's pharmacy to create the most effective balm to treat eczema, dermatitis and rashes. The Skinfix unique combination of natural medicinal ingredients, vitamins, minerals and emollient oils has been healing the skin of people since 1850. Today, Skinfix has built on this original miracle balm and now has several complete skincare regimen available across the United States, Canada and the UK.
The Skinfix Eczema Collection is priced between $11.99-$23.99 and is available at Target, Target.com, CVS Pharmacy and CVS.com.

*NEW* Skinfix Extra Strength Sheer Face Ointment (1.94 oz/ $18.99) An extra dose of 5% Colloidal Oatmeal soothes itchy, flaky red skin. Colorless and fragrance free, this formula also provides steroid free relief to the delicate eye area, especially flaky lids. Ophthalmologist tested and safe to use for those who wear contact lenses.
*NEW* Skinfix Extra Strength Soothing Body Cream (8 oz / $19.99) This richly textured extra strength all over body cream soothes itching and irritation due to eczema and dry sensitive skin. Our unique Triple Oat Complex and emollient oils provide natural anti-itch protection without steroids.
*NEW* Skinfix Kids Eczema Balm (2 oz./$18.99) This 0% water, soothing balm uses 2% colloidal oatmeal to bring relief to dry, itchy eczema patches anywhere on the body. Dermatologist recommended this steroid, fragrance, soy, paraben and phthalate free balm is a safe steroid alternative for kids. Winner of the Parent Tested Parent Approved Seal. Available at Target only.
Skinfix Eczema Balm (2 oz./$17.99) This 0% water and preservative free balm provides a protective barrier, reduces redness and soothes irritation. Packed with 2% colloidal oatmeal, natural shea butter and emollient oils this natural targeted therapy can be used as an alternative or in conjunction with steroids.
Skinfix Hand Repair Cream (2 oz./$11.99) This award winning medicinal hand cream with 1% colloidal oatmeal is super-rich and formulated specifically to relieve extremely dry, cracked and eczema-prone skin on hands immediately on the first application. An independent clinical study found that skin moisturization increased by 111% after one week of use. Winner of Allure, Shape, Redbook and TotalBeauty.com 2015 awards for best hand cream.
Skinfix Soothing Lotion (12.5 oz./$23.99) is a lightweight and fast absorbing body lotion. It soothes and protects skin with 1% colloidal oatmeal and is infused with natural emollient oils of coconut, jojoba and apricot kernel, leaving skin all over the body smooth and soft all day long. Available at Skinfixinc.com.
Skinfix Soothing Wash (12.5 oz/$19.99) Winner of Allure's Best of Beauty 2016: Sensitive Skin Award this is a 98% natural body wash. Mild coconut based cleansers gently foam and leave skin feeling soft and hydrated, never stripped or dried out. Fragrance and sulfate free, and infused with colloidal oatmeal, aloe vera, vitamin e and emollient sunflower and jojoba oils, this is a true skin fix for even the most sensitive skin. Available at Skinfixinc.com.
Br J Dermatol. 2000 May;142 (5):931-6; Ann Dermatol. 2015 Oct;27 (5):499-506
ABOUT SKINFIX INC.
Skinfix Inc. is a natural product company devoted to making clinically proven, physician recommended skincare and personal body care collections for the whole family. Based in, Halifax, NS Skinfix Inc.'s two challenger brands include Skinfix and SweetSpot Labs. Skinfix's award winning facial and body skincare products for dry, sensitive and eczema-prone skin is available across Canada, US and UK at major mass retailers such as Shoppers Drug Mart, Loblaws, Target, Ulta Beauty, CVS and Boots. SweetSpot Labs natural, pH balanced and gynecologist tested collection of body washes and wipes are now available at Target in the US and at Shoppers Drug Mart in Canada.