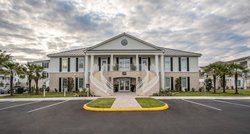 Southern Pine not only offers a long list of incredible amenities, but a whole new level of southern-style luxury that we think has been missing from the region's apartment market. - Taylor Franklin, FJG President and COO
Virginia Beach, VA (PRWEB) September 27, 2016
MEDIA ALERT
WHAT: Grand Opening, Southern Pine Apartments
WHEN: Wednesday, September 28, 5 to 7 p.m.
WHERE: Southern Pine Apartments, 2520 Allie Nicole Circle, Virginia Beach 23456
WHO: Mayor Will Sessoms, local dignitaries and The Franklin Johnston Group, a developer and manager of multifamily rental residences in the senior, luxury and affordable housing sectors.
A Grand Opening Ceremony unveiling the new Southern Pine luxury apartment community in Virginia Beach will be held Wednesday, September 28th, The Franklin Johnston Group announced today.
Southern Pine ushers in a new era of sophisticated, resort-style apartment living along the Virginia Beach National Golf Club, capturing the relaxed, southern-style of South Carolina's Lowcountry architecture, said The Franklin Johnston Group President and Chief Operating Officer, Taylor Franklin.
The 240-unit Southern Pine Apartments are located at 2520 Allie Nicole Circle near the intersection of Nimmo Parkway and Princess Anne Road, just behind the Courthouse Market Place Shopping Center.
"Southern Pine not only offers a long list of incredible amenities, but a whole new level of southern-style luxury that we think has been missing from the region's apartment market," Franklin said. "We're excited to show it off."
Set from 5 to 7 p.m., the Grand Opening ceremony will feature Virginia Beach Mayor Will Sessoms, Franklin Johnston Group representatives and numerous local dignitaries and city government officials.
The ceremony will highlight Southern Pine's luxurious, Lowcountry vibe through a "Black/White Southern Flare" theme, with heavy hors d'oeuvres and cocktails catered by Chesapeake Bay Catering, music by Jesse Chong and horse-driven carriage ride tours throughout the community.
Although its resort-style design is modeled after a Lowcountry architectural design that dates back to the 1700s, Southern Pine Apartments are decidedly contemporary, featuring a gated community, outdoor infinity-style swimming pool, a two-story luxury clubhouse, a state-of-the-art fitness center, a two-lane bowling alley and more.
Inside the one-, two- and three-bedroom apartments, residents choose from six different open floor plans filled with stainless steel appliances and modern amenities, and stunning balcony views of the water or golf course.
For more details, visit SouthernPineApts.com.
###
Southern Pine Apartments are just the latest addition to The Franklin Johnston Group's (FJG) multi-family community portfolio. The company owns and manages more than 10,000 units and 53 properties throughout the Eastern U.S. The FJG portfolio is composed of its own properties as well as those owned in partnership with various individual and institutional investors. The company develops new properties and acquires and rehabilitates existing communities. FJG is headquartered in Virginia Beach, VA and employs more than 250 people throughout the mid-Atlantic and Southeast.