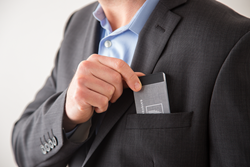 The unique design of Avery WePrint™ Business Card Books™ offers premium, clean-edge business cards in a bound, covered book. Keeps business cards organized and in pristine condition while on the go or at office or home.
Brea, CA (PRWEB) November 10, 2016
Avery Products Corporation, the leading manufacturer of printable labels and cards, announced today the launch of Business Card Books by WePrint, the professional online printing service offered by Avery.
The Business Card Books innovative design offers premium, clean-edge business cards secured in a bound, covered book. They're ideal for keeping your business cards in perfect, pristine condition while on the go, or for safe, easy organization at office or home.
A sturdy, clear cover keeps the cards secure and looking like new with no bending or tearing. Each book comes with 25 cards and fits easily into pockets, purses and briefcases without getting lost, bent or damaged. Just bend and pull to remove one card at a time with no fuzz or rough edges—simply a perfect card every time.
"Avery WePrint is thrilled to announce the launch of our new Business Card Books," said Jeffrey Herz, Director of Marketing for Avery WePrint. "This unique product is a must-have for on-the-go professionals and business people. They're perfect for networking, tradeshows, meeting new clients or anytime you want to deliver a professional, first impression."
The free, easy-to-use design tool from Avery lets consumers personalize their cards quickly and easily. They can upload their own logo or graphics, or choose from hundreds of customizable, professional designs. With WePrint, you get premium print quality, low minimum order quantities, no setup fees , delivery in as few as three days and 100 percent satisfaction guaranteed.
To learn more, visit avery.com/weprintbcb.
About Avery Products Corporation
Avery Products Corporation is one of the world's leading manufacturers of printable labels, name badges, business cards, dividers and more, and markets products under the well-known Avery® brand. The company offers innovative solutions to make life easier, including free templates to design, customize and print projects. Avery Products Corporation, a division of CCL Industries, is based in Brea, California. For more information about Avery products, visit avery.com.
About CCL Industries
CCL Industries Inc., a world leader in specialty label and packaging solutions for global corporations, small businesses and consumers, employs approximately 19,000 people and operates 150 production facilities in 35 countries on 6 continents with corporate offices in Toronto, Canada and Framingham, Massachusetts. For more information, visit http://www.cclind.com.
Avery and all other Avery brands, product names and codes are trademarks of Avery Products Corporation. All other company and product names may be trademarks or service marks of their respective owners.