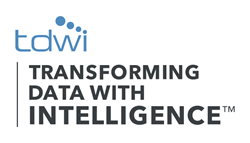 Participants will be immersed in state-of-the-art technologies and practices to drive customer-centric innovation.
Austin, TX (PRWEB) September 28, 2016
TDWI, a division of 1105 Media, announces the TDWI Austin: Delivering the Future of Data conference. The conference takes place December 4–9, 2016, at the JW Marriott.
For over 20 years, TDWI has been helping data professionals get smarter so the companies they work for can innovate and grow faster. At TDWI Austin, participants will be immersed in state-of-the-art technologies and practices for storing, analyzing, and harnessing enterprise data to drive customer-centric innovation.
Attendees can choose from more than 60 courses, workshops, and hands-on learning labs. All sessions are either a half day or a full day to encourage in-depth exploration of the skills data professionals need in their jobs today.
The conference features five subject tracks:

Analyze and Discover—Apply visualization and analysis techniques to create meaningful and effective insights that drive business decisions.
Data Architectures & Storage—Build, model, and implement an agile storage practice that can handle the world of big, unstructured, streaming, real-time data chaos.
Drive Business Insight with Data—Transform your organization into a data-driven business to produce valuable insights and gain a competitive advantage.
Managing Data for the Future—From requirements to governance and data quality, set up a data management practice that evolves with the data revolution.
TDWI Data Foundations—TDWI's foundation courses provide you with the core skills you need to effectively support your data programs.
Co-located with TDWI Austin is the Executive Summit: Data-Driven Emerging Technologies, December 5–6. Designed to thematically complement the TDWI technical program, this interactive summit will focus on how to select and implement emerging technologies to accomplish business goals.
To Register
Visit the event website: https://events.tdwi.org/events/austin-2016/home.aspx. Conference attendees who register by October 14, 2016 are eligible for a special discount of up to $890.
For the Media
Members of the media are invited to cover the event. Interviews with TDWI spokespeople are available upon request. Media passes are reserved for press representatives and analysts who can verify that their publication or organization regularly covers data warehousing, business intelligence, or related topics. Please note: media passes will not be issued to publishers, sales, marketing, advertising, public relations, or technical support staff from any organization. To apply for a media pass, please send an email to bwoodbridge(at)tdwi(dot)org with the following information: Name, title, company, email address, telephone number, dates of attendance, publication/website name (including website URL), link to three articles/blogs/podcasts published in the last three months that cover business intelligence, data warehousing, or related topics.
About TDWI
For 20 years, TDWI has provided individuals and teams with a comprehensive portfolio of business and technical education and research about all things data. The in-depth, best-practices-based knowledge TDWI offers can be quickly applied to develop world-class talent across your organization's business and IT functions to enhance analytical, data-driven decision making and performance. TDWI advances the art and science of realizing business value from data by providing an objective forum where industry experts, solution providers, and practitioners can explore and enhance data competencies, practices, and technologies. TDWI offers six major conferences as well as topical seminars, onsite education, membership, certification, live webinars, resourceful publications, industry news, and in-depth research. See tdwi.org or follow us on Twitter @TDWI.
About 1105 Media
1105 Media, Inc., is a leading provider of integrated information and media in targeted business-to-business markets, including specialized sectors of the information technology community; industrial health, safety, and compliance; security; environmental protection; and home healthcare. 1105's offerings span print and online magazines, journals, and newsletters; seminars, conferences, and trade shows; training courseware; and Web-based services. 1105 Media is based in Chatsworth, CA, with offices throughout the United States.