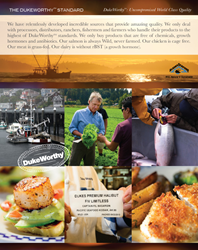 We only deal with processors, distributors, ranchers, fishermen/women, and farmers who handle their products to the highest of DukeWorthy™ standards.
Seattle, WA (PRWEB) October 10, 2016
Years ago, on the fishing boat Miss Gina, Captain Mike Friccero unintentionally coined the term "DukeWorthy" while fishing for halibut with Duke Moscrip, owner of Duke's Chowder House. A halibut of questionable size and color—that looked neither fresh nor bright—was brought in, then promptly thrown back when Mike exclaimed, "That's not DukeWorthy; throw it back in the water." The term perfectly encompassed the brand and standards around which Duke had built Duke's Chowder House.
Another pivotal moment for the Duke's Chowder House brand happened in the mid-80s, when Duke was invited to Alaska to oversee the fish handling. Standing in the processing plant, watching the fish being unloaded from the boats, it struck Duke that he was unaware of how the fish were caught, how they were handled, how they were bled and iced, and why these practices were important. In all the years following, Duke has traveled to Alaska to personally oversee what happens on the fishing boats.
With each Alaska trip over the next 30 years, Duke became increasingly alarmed: salmon were unloaded from a fishing vessel and left sitting on the dock with no ice covering them. This led to a frozen product that failed miserably 8 months later. Duke witnessed fresh seafood sitting on the tarmac of an airport in Alaska in 80 degrees, with no protection -- it was ruined before it arrived at its destination. After checking the temperature of the fish coming off the boats, Duke realized that not every fisherman ices fish properly. Fish that is not iced properly loses 1⁄2 day of freshness for every degree above 32 degrees.
This gradual education led to a particular discovery: fresh seafood isn't really fresh. It can be as old as 27 days and still be labelled "fresh." As a result of these experiences, Duke set out to find out what was the best way to ensure that his sources of seafood were, not only sustainable, but that would also meet the test of time, as he serves Coho salmon all year long. His innovative new concept: "ice chilled SEAFOOD . . . BETTER THAN FRESH™ was born." This seafood is frozen to minus 40 degrees within 48 hours of capture.
All of this inspired him to institute procedures and standards to ensure the seafood served in his restaurants is the best available anywhere, according to DukeWorthy™ standards.
Duke's DukeWorthy™ Standards and Specifications for Wild Alaska Salmon and Halibut for Fishermen/women
-Bleed the fish thoroughly and immediately after capture.
-Clean fish within one hour.
-Ice or immerse in refrigerated sea water (RSW) immediately after bleeding and through duration of delivery to processing plant. Maximum temperature is 34 degrees Fahrenheit.
-One to two day old fish only.
-Segregate fish on board by day of catch to ensure only one to two day old fish.
-Halibut Size: 20-40 lbs.
-Coho Salmon Size: 6 lbs. and up
Processing Plant
-Accept only fish 34 degrees Fahrenheit maximum; clear eyes, firm flesh, bright skin.
-Keep Duke's fish segregated throughout entire processing.
-Graded No.1. No chalky (appearance or taste) halibut accepted.
-Keep fish iced prior to processing; maximum temperature 34 degrees Fahrenheit.
-Fillet, deep skin, completely bone-free, vacuum pack, and then freeze at 10 degrees below zero (or colder) at processing plant.
The DukeWorthy™ Standard has been relentlessly developed via incredible sources that offer impeccable quality. Duke Moscrip reiterates his commitment:
"We only deal with processors, distributors, ranchers, fishermen/women and farmers who handle their products to the highest of DukeWorthy™ standards. We only buy products that are free of chemicals, growth hormones and antibiotics. Our salmon is always Wild, never farmed. Our chicken is cage-free. Our meat is grass-fed. Our dairy is without rBST (a growth hormone). By following our standards we can serve our guests unique, quality foods that also taste delicious too."
As Duke relays, "I go to Alaska so that I can bring you the best seafood in the world - so tasty and oh so good."You've got to be their first hand or you cannot be sure what you are getting."
To this day, Duke's world class quality and standards remain uncompromised.
About Duke's Chowder House:
Voted Seattle's Best Seafood Restaurant and Best Chowder in Seattle – Duke's Chowder House is a family owned and operated enterprise with six different locations throughout the Puget Sound region. Renowned for its Award Winning Clam Chowder, Duke's menu is filled with delectable seafood dishes crafted by Duke and Duke's very own Executive Chef "Wild" Bill Ranniger–a proclaimed culinary genius in the region. Founder and Owner Duke Moscrip – together with his son and partner John Moscrip – continue their passionate journey to source all wild, natural, healthy and fresh tasting ingredients. Duke's food is free of hormones, antibiotics and harmful chemicals. Duke's is an upscale, casual Pacific NW seafood concept offering signature, flavorful, 100% sustainable wild seafood, Award Winning Chowder and grass fed burgers. Guests sum up their favorable assessment of what Duke's Chowder House has to offer with three words: "It's sooo good!" Duke's is honored to have received the highest seafood restaurant rating in the State of Washington by Fish2Fork, a leading evaluator of worldwide seafood restaurants, garnering a 4.5 out of 5 (no higher rating in the world). Duke's is equally honored to be among the first restaurants in Seattle to be recognized with a 100 percent volume compliance sustainable seafood rating from Smart Catch, a program designed to promote sustainability and raise consumer awareness regarding sustainable seafood options. You can learn more about Duke's and their new cookbook, "As Wild As It Gets . . . Duke's Secret Sustainable Seafood Recipes – Intimate Tales of the Legend Himself," at http://www.dukeschowderhouse.com/.